In a revealing interview with Swiss newspaper Blick, Granit Xhaka has slammed some Arsenal fans for creating a "bad atmosphere" for players with their recent criticism.
The midfielder has also claimed that some supporters' actions "weaken the team's spirit." The 27-year-old's latest comments are sure to upset some fans.
Given the attention around Xhaka's situation at the Emirates, you'd think that the Swiss international would be trying to keep a low profile.
Mirror Football report that the disgraced Arsenal captain told supporters to "f*** off" as he was walking off the pitch in our recent draw with Crystal Palace.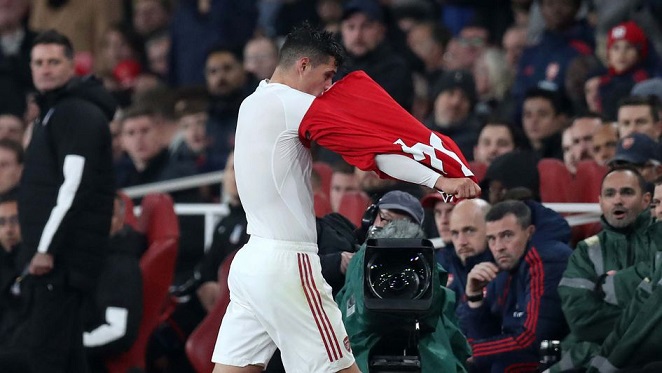 Here's what the Swiss international had to say on some fans that 'attack' certain players:
"But at a time you are already experiencing a lot of hostility and your own football family insults you, it hurts a lot."
"I don't mean to say that I can't take criticism. If the team and I don't play well, we have to listen and work on it."
"But insulting and swearing at your own captain will cause upset and a bad atmosphere for the team you are actually supposed to be supporting. That makes no sense to me and weakens the team's spirit."
Read More: Opinion – The Arsenal board are making a mistake in keeping Emery.
Xhaka is yet to return to action for Unai Emery's side since his outburst towards fans.
The potential silver lining of the whole saga is that Lucas Torreira is back in the starting lineup, the tireless midfielder was arguably our best player last season.
Do you think it was wise for Xhaka to make these comments about some supporters?