Well I am very surprised that Wenger has stuck with Welbeck as centre-forward when we have to play so many games in such a short space of time, but I guess that Southampton v Arsenal is a must-win for the Gunners so let's hope Le Boss knows what he is doing…
There are little surprises in the rest of the side, and Alexis and Ozil are kept faith with, despite looking out of sorts at the weekend.
There is still no place for Bellerin, with the Ox staying as wing-back, I guess that Wenger has this philosophy of 'not changing a winning side'. But I would have expected a little bit more rotation to be honest.
Anyway, here is Wenger's confirmed line-up for St Marys this evening….
Cech, Holding, Mustafi, Monreal, Ox, Ramsey, Xhaka, Gibbs, Ozil, Alexis, Welbeck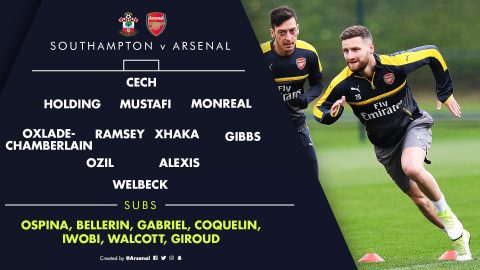 It looks like a very safe choice for Wenger, but will it be enough to beat a team at a ground that we haven't won at since the time of the Invincibles?
Admin