Nigerian businessman Aliko Dangote would still like to buy Arsenal, as early as next year. Arsenal is among the most successful teams in the history of the English Premier League. That's why the Gunners are so popular to watch and bet on. UK bookmakers are offering a wide range of interesting bets like who the new coach is likely to buy or whether they'll make it to the Final of the Europa League this season. Bettors can further boost their potential winnings by trying football betting with a sportingbet bonus or many of the other promotions out there.
Arsenal have won three EPL titles to Manchester City's four, Chelsea's five and Manchester United's 13. Blackburn Rovers and Leicester City have won one each. They are currently owned by American businessman Stan Kroenke. Kroenke Sports & Entertainment is also the holding company for:
the Los Angeles Rams in the NFL;
Denver Nuggets in the NBA,
Colorado Avalanche in the NHL;
Colorado Rapids in the MLS; and others
What Dangote Said
"Arsenal is a team that, yes, I would like to buy someday, but what I keep saying today is we have $20 billion worth of projects, and that's what I really want to concentrate on," Dangote said on the David Rubenstein Show.
"I'm trying to finish building the company and then after we finish, maybe sometime in 2021 we can.
"I'm not buying Arsenal right now, I'm buying Arsenal when I finish all these projects because I'm trying to take the company to the next level."
Dangote's Love Affair with Arsenal
Dangote's recent remarks reiterate those made in 2016 and 2017 when Arsenal's fortunes – on and off the field – continued to ebb and flow.
"It's not about buying Arsenal and just continuing with business as usual,' he insisted a couple of years ago.
"There's no doubt I'll buy Arsenal, It's not a problem of money. The issue is that we have more challenging headwinds. I need to get those out the way first and start having tailwinds. Then I'll focus on this.
"If they get the right offer, I'm sure they would walk away. Someone will give them an offer that will make them seriously consider walking away.
"And when we finish the refinery, I think we will be in a position to do that. I don't change clubs. Even when Arsenal isn't doing well, I still stick by them.
"It's a great team, well-run. It could be run better, so I will be there. I will wait. Even if things change, I will take it and make the difference going forward."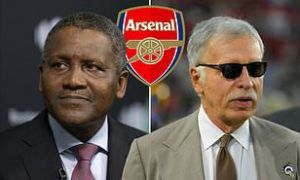 What about Kroenke?
Kroenke, meanwhile, has reiterated his commitment to Arsenal but there have been some discussions on their intentions with the club and whether they should stay or sell. Arsenal failed to qualify for the UEFA Champions League this year and, at the time of writing, were struggling to stay in the top 10 of the English Premier League.
"Silverware and trophies. I think anything short of that is not a success," Kroenke told Arsenal.com last year.
"There are certain things that you have to do to lay foundations to achieve those goals, and I think we've done that over the past 12 to 14 months.
"From our coaching staff to our management, there have been significant changes that have gone on, and I'm really excited to let those foundations continue to grow and take shape to build a successful future for Arsenal.
"It's a daily approach. There are no shortcuts. As much as we would love to say that we'll be competing for the top trophies tomorrow, we know that that's not the case and that we have to get to work on that. That's a daily approach to the little things from the top down.