We all know that Arsene Wenger has made an agreement with David Ospina that says that the Colombian will be playing all of Arsenal's FA Cup games this season, but the fact remains that we will be facing the best team of the season in the Final, and surely we will want our best keeper on the pitch.
Cech was awesome against Tottenham yesterday and the Czech was the only player that Wenger had good words to say about after the game. "He had an outstanding performance," Le Prof said on Arsenal.com. "He was one of the players who turned up today and it shows that he still has it at the top level."
There is no doubt that the Gunners could have been seriously embarrassed if Cech wasn't playing, and with the FA Cup being our only chance of salvaging some pride from this campaign, it makes sense to have Cech between the sticks against his old side.
After winning so many trophies with Chelsea, Cech will be desperate to get one over his former team-mates and prove that they were wrong to let him go when they did. Strangely enough before Cech started against Spurs, the official Chelsea twitterfeed named Cech as in the Blues line-up to face Everton in the afternoon kickoff.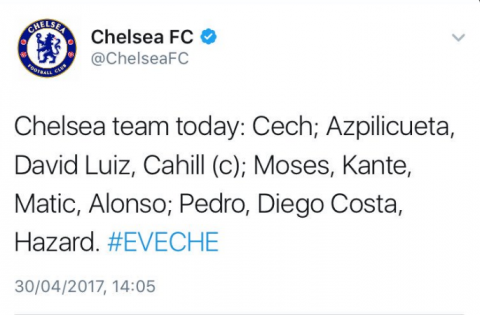 Maybe they are regretting letting him go now?
Admin