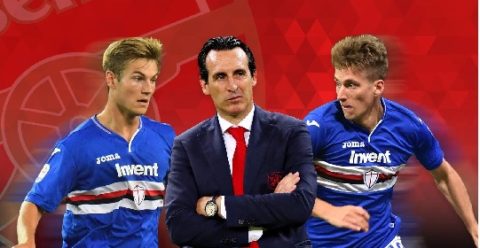 Arsenal continue to be linked with the Sampdoria pair Andersen and Dennis Praet, and of the two it would appear today that the Gunners are getting closer and closer to signing Praet at least. The Begian midfielder looks like he would be good replacement for Aaron Ramsey and at age 25 he should be approaching his prime and have many years left in his career at the top.
It is now being reported that his agent Martin Riha has hinted that his client is getting close to leaving the Serie A club. He said: "Dennis is a complete player and ready to move to a top club,"
When asked if Arsenal are one of the clubs chasing Praet, Riha added: "I don't want to say more now, I think you can understand."
So does that sound like he is on his way to the Emirates? Considering that he has been linked to us for quite some time I get the feeling that his arrival is looking more and more likely don't you?
Belgium have been producing a lot of quality players lately and they have soared up the international rankings so Praet could be a great addition to the team. Once known as a "wonderkid" at Anderlecht he progressed enough to win the Belgian Golden Boot as the country's player of the year in 2015, just before winning his move to Sampdoria.
Could we expect an announcement very soon?
Admin