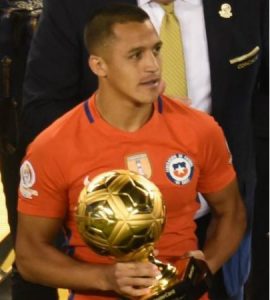 Arsenal's Alexis Sanchez helped Chile to win their first Copa America for a century last year, and he repeated the feat again last night in the United States by beating Argentina on penalties once again.
The Arsenal star was given the Golden Ball for being the best player at the tournament, while his striker partner Eduardo Vargas earned the Golden Boot with six goals, and the Chile keeper Claudio Bravo deserved the Golden Glove after keeping three clean sheets.
Both sides were reduced to ten men in the goalless 120 minutes of play, and it was Chile that held their nerve in the penalty shootout. Argentina were boosted when Arturo Vidal flunked Chile's first spot kick, but Messi stepped up and blasted his attempt over the bar. Chile went on to win 4-2-
Messi was distraught after losing his fourth major final in his international career and said afterwards: "For me the national team is over. I've done all I can, it hurts not to be a champion,"
Despite winning everything at club level with Barcelona Messi will now have to face the fact that, like Ronaldo, international success will never come his way even though he has been surrounded by brilliant individuals in the Argentina side.
But all Arsenal fans can celebrate that we are lucky enough to have South America's very best player in Alexis, who scored three goals and had four assists on his way to his second Copa America winners medal.
He was unsurpringly very emotional after the game. He said: "I have no words. Thanks to the people who came to support us, to my team-mates. This is all so incredible,"
"I am very emotional, even though I don't fully understand what is happening, that we are champions, against an Argentinean team that are among the best in the world.
"We are in Chilean football history. This is the best thing to happen to me in my life. You don't win two finals every day.
"I am happy for my team-mates, I think the people, to everyone. I hope that the Chilean people enjoy this a lot."
Let's hope he goes off on holiday for a well-earned rest before coming back to the Emirates next season to help Arsenal win the Premier League….
Admin