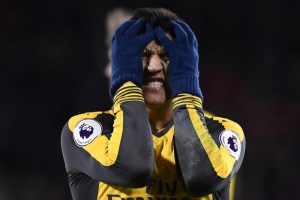 There have many times in the last couple of years when Arsenal and Chile have fallen out after the South American team have lined up with Alexis Sanchez in the starting line-up, despite our club insisting that he shouldn't be risked.
Yet again Alexis has suffered an ankle injury in training with his Chilean team-mates, coach Juan Antonio Pizzi said yesterday: "[We're] optimistic from the images we've seen.
"But we understand and know that the player still feels pain, and that's why we'll wait until tomorrow to decide if he plays.
"We don't risk any player who is not in condition to play and who could aggravate an injury.
"We're very careful with the health of our players, and because of that we always act with the responsibility required by our position."
The Confederations Cup opening game for Chile is against Cameroon, which should be one of the easiest ties Alexis's side, but surprisingly the coach has still decided to put Sanchez on the bench in case they get in trouble. That is hardly being responsible considering the Arsenal striker was in a safety boot and on crutches just yesterday!
Admin