Griezmann, Llorente, Aubameyang? I'm afraid we can't compete with the other top clubs in the Premier League and now it's time to accept that. With the Gunners missing out on the Champions league next year it's going to be even harder for Arsenal to lure top players to the club this summer.
It is true that Arsenal has one of the biggest cash balances in the Premier League, second in fact. Though cash balance is not regular revenue and with Arsenal not getting money from Champions league football this year, they're likely to want to keep a substantial reserve. The Gunner's reserves have gradually increased year on year as shown in Swiss Rambles report on the club's finances. In 2004 the balance stood at £75m, 2011 £150m and finally 2016 £225m. The only club with a similar cash balance is Manchester United who holds £229m, following us two is Manchester City with £75m.
It's been known for some time that Arsenal has always relied on match day revenue to keep up financially, though some people don't realise how ridiculously the club does rely on it. As a percentage of total revenue, match day revenue is 30%, whereas Manchester United's match day percentage revenue is only 23% as also shown in the report. Although match day revenue is something that we can rely on regularly, with Tottenham, Chelsea and Manchester City all increasing their stadium capacities in the near future, it's not something we can lead forever.
With Gazidis promising to take us to the next level and compete with the likes of Bayern Munich, it might come as a surprise that Arsenal managed to finish fifth in terms of commercial revenue in the Premier League shown by Deloitte's money league. United was in a league of their own with £201m, Manchester City – £174m, Liverpool – £116m, Chelsea – £108m and then finally Arsenal with £103m. In terms of shirt sponsorship, Manchester United manage to draw £56m a year from Chevrolet, Chelsea £40m from Yokohama Tyres, whereas Arsenal only managing £30m from Fly-Emirates. Kit suppliers are where Arsenal really fall behind United and Chelsea, with Adidas giving £75m and £60m to United and Chelsea respectively, whereas Arsenal only get £30m from Puma.
The Gunners are already paying a high percentage of their revenue to player wages. United's wages only take up 45% of revenue, Tottenham 51% and Manchester City 55%, whereas Arsenal's are the highest with 56%. With our wages to revenue ratio already at a high, can Arsenal really afford to pay Ozil and Alexis what they want, unless they have a massive clear-out?
With only Sanogo's contract expiring this summer its next summer where things start to look dangerous for the Gunners with the contracts of Alexis, Ozil, Ramsey and Oxlade-Chamberlain all expiring.
Though it is possible to pay our stars what we want, with both Ozil and Alexis both wanting £160k more a week, with a clear out we could easily meet their wage demands and add extras to our squad this summer. A realistic budget of £125m on just transfers alone wouldn't see our cash balance sink below Manchester City's, which I think is a reasonable ask. With Wenger saying we only need one or two signings to compete, I think he's right if they're top quality signings.
Shown below is in my eyes, the perfect overhaul we could have: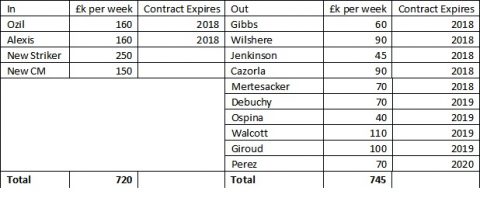 This would change the starting line up from this one and transform it into the one below, presuming everyone is fit.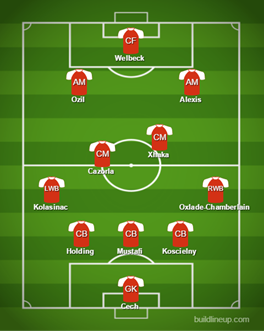 This isn't even including Szczesny, Monreal, Gabriel, Bellerin, Coquelin, Elneny, Ramsey, Iwobi and Welbeck all of which could field a strong bench and cover key positions in the team.
Who would be the ideal signings and who would be willing to join is yet to be seen. Though I hope to analyse the possible signings we could make and who would make the perfect fit over on my Arsenal blog in the coming weeks. Although we might have had a disappointing sseason, it's certainly going to be an interesting transfer window.
Will