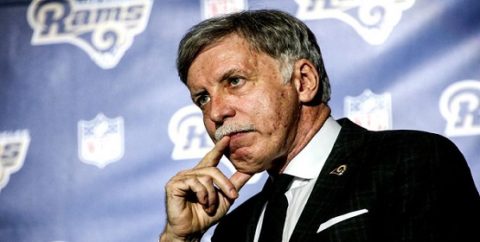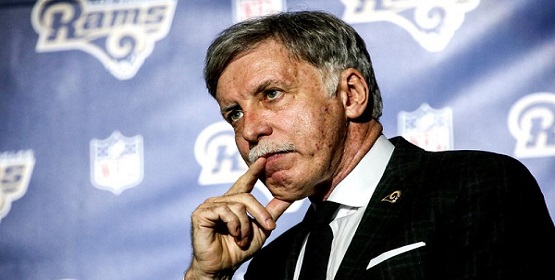 Who Is Stan Kroenke? By Dan Smith
Rumours are that senior figures at our club are talking to Mr Kroenke this week in a bid for him to free up some cash. Their objective is to make him more realistic with his transfer budget, accepting that 45-70 million can get you very little in today's market. There are zero guarantees. He's not just nick named 'Silent Stan' for his preference to avoid all interviews, but he prefers his companies to run themselves.
While it's an emotional reaction to claim the American doesn't care about us, it's very hard for us to be his priority. His portfolio also includes owning the LA Rapids, LA Gladiators and Colorado Mammoth. It's believed his wife has the same title for the Denver Nuggets and Colorado Avalanche purely as a way to obey the rules. In short though the Kroenke family oversee an American Football, Soccer, Lacrosse, Overwatch, NBA and Hockey franchises.
According to Forbes only the Rams are valued higher than us yet based in operational income we make the most yearly at 102 million. Only the Rapids come close to making him a loss meaning we are not a brand on his portfolio he will want to neglect but we might make enough for him to feel comfortable. Of course, logic says the more you put in now the bigger the figures in the long term, but he's hardly hard up at the moment.
Based purely on making a profit on his investments there is no need for drastic change, and he would only do that out of love for the sport, something he's never demonstrated. Under Kroenke's leadership his teams have won 3 FA Cups, 2 NFC titles (although yet to win the super bowl), 3 division titles (no championships), The Stanley Cup, MLS Cup and the NLL title.
His biggest critics will say he was simply lucky in terms of the family he married into, Ann Walton the daughter of the co-founder of Walmart. In reality though, long before the two had met, Stan was buying and selling; making profit on bookstores…
Marriage in 1974 gave him opportunities he might not have had but to be fair he ran with them. Thanks to his in-laws he got a job with Raul Walters who had built the first Wal-Mart stores. Within 4 years they were partners, developing over 20 malls (some Walmart's). So essentially Stan was in business with his father in law, earning millions in rents and fees. When Bud Walton died in 1995, his two daughters inherited his stock and became heiresses to Wal-Mart fortunes, Stan was added to its board of directors. But how is he viewed outside of the UK?
Los Angeles Rams
The reason you won't hear Ram fans speak of Stan like Gooners do is he has helped bring then back from the dead to at least relevant. In 1994 Stan brought a minority stake in a team who finished last in NFC West and who's fan base was dwindling to the point where low crowds convinced them to move away from Southern California. He supported plans of legal actions against owners of rivals who had voted to block the change of location. In 2009 when the remaining shares were put up for sale, Stan used his right of first refusal to buy the remaining 60 percent. The first use of Silent Stan came in 2015 when he failed to give any promises that the Rams would remain in St Louis. He rightly felt that the Edward Jones Stadium could not provide the facilities required for that level of football.
He ignored all compromises and decided to build a new stadium. Back in L.A on property he conveniently owns. In other words, he ignored the millions of natives In St Louis who had been devoted for the same reason he supported the original move, follow the money. In a space of a month 56 thousand season tickets were sold for the unveiling in 2020 representing a massive turnaround in interest in the Rams from L.A. Locals. Essentially Mr Kroenke was able to do for the area what the council wouldn't 2 decades earlier. Experts feel that the move increased their value by double. That's doesn't help those in St Louis who have been left with a 120m bill the taxpayers will pay for an empty arena.
The Rams won the Northern Football Conference but lost in Super Bowl
Denver Nuggets
While not overly successful you could argue the Nuggets have enjoyed a boom in popularity under the Kroenke banner, ending an 18 year drought for a division title, while drafting names with star appeal such as Anthony and Iverson, guaranteeing more media coverage. Ironically one of the first things he did as owner was place the team into a trust till 2025 to avoid a repeat of what he's done with the Rams. After buying the Rams, day to day running of the Nuggets officially was passed over to his wife and son. That might interest Gooners as it's believed Arsenal might end up as Josh's baby. The difference is he's an avid Basketball fan, played it at school and therefore is around the place all the time. He even gives interviews!!
The Nuggets finished 2nd in the NBA Western Division (and lost in the Conference semifinals)
Colorado Avalanche
This hockey team came with the deal when buying the Nuggets, meaning when he acquired the Rams, day to day running was handed over to his wife. They won their second Stanley Cup in their history (in 2001) under the Kroenke's but in last decade have failed to even get to the playoffs. The decline was out of the owner's hands as the League tried to introduce a salary cap at the time Colorado were getting to finals. In protest players held a 'lock out' in 2005 refusing their salary to be based on crowds. In total 388 NHL players moved to Europe. Although others suffered financially the Kroenke's could no longer offer the highest wages in the League.
Avalanche finished 2018/19 season in 5th place (out of 7) in the Central Division of the NHL Western Conference
Colorado Rapids
Under Mr Kroenke's leadership the only honour in their history happened when they won the MLS Cup in 2010. In sentiments that gooners will identify fan groups have released statements questioning the ambition /direction of the club . In 2016 they finished runners up and felt from a position of strength more should have been done in terms of player recruitment. Perhaps Stan's biggest contribution to the MLS was building a stadium more suitable for the modern game. Believing the popularity of the sport would grow, he invested 130 million to build a 19000 capacity stadium including youth pitches.
Colorado Rapids
Major League Soccer 2018
Western Conference: 11th
Overall: 21st
Playoffs: Did not qualify
In 2004 Mr Kroenke launched Altitude, a television network which gives access to the 4 Denver based Sports teams he owns. The opinion of Mr Kroenke in the US will be purely based on where you're from. If you're from St Louis, to this day the state is trying to sue the man for taking away 'their football team' and leaving them with a heavy bill. Yet are locals there not as hypocritical as those in LA?
Were St Louis feeling bad for L.A. when they adopted another city's first love? Yet LA were quick to forget how they were chucked to one side in the nineties. For a man gooners recognise as a man not interested, he's quick to get identify where the money is.
England would never accept you moving location based on population (we are in London anyway) but facts and figures shows it works for Stan. Creating TV stations that air/advertise his portfolio is also shrewd. In conclusion his legacy will be two new stadiums which improved those sports (one will be used for the Olympics), a way for his team to always be available on TV, while spotting the growth in Lacrosse and gaming.
There isn't much he's done to make a team worse, yet he will go against popular belief for money. He's got thick skin in terms of being willing to upset Leagues, cities, the media, and of course fans if he thinks it makes financial sense.
Dan Smith