Why we love it when our Arsenal Women get aggressive on the pitch by Christine Allen
"When I started playing football, I got respect and power. When I got tackled I didn't know how to deal with it… so the first thing I did was fight them..everything was a confrontation"  from Ian Wright
George Orwell (1950) once pronounced, "Serious sport has nothing to do with fair play. It is bound up with hatred, jealousy, boastfulness, disregard of all rules and sadistic pleasure in witnessing violence; in other words it is war minus the shooting."
A little extreme? Indeed.
Yet could there be merit to Orwell's observations?
Now let me begin by stating that nobody with player welfare at the forefront of their mind, wants to see reckless and dangerous behaviour on a football pitch.
The recent backlash received by Everton forward Aggie Beever-Jones after her questionable slide tackle on Lia Walti reveals our distaste for reactionary and risky play.
Yet in the same breath, we can't deny that seeing 'Wallys' teammates rush to her defence didn't fill us with a sense of pride following the injustice witnessed.
The reason for this is pretty simple.
We want our players to care.
We want them to show how invested they are in our success.
Because we are.
In the general ebb and flow of society, aggression is framed (and rightly so) as unwarranted hostility or assaults, be they verbal or physical, towards another individual.
However in the context of contact sports, aggression is often channelled by players and spoken about within the media, in a positive frame.
Our very own Beth Mead has gone on record to state that she plays her best football when "angry", so much so that her stellar performances throughout the 21/22 season, both at club and international level, were christened "The Beth Mead Revenge Tour."
In Mead's book "Lioness – My Journey To Glory", she talks candidly about how her England manager at the time, Phil Neville, benched her with the sole aim of igniting a reaction.
"I've seen you when you've been aggressive and confident," Phil tells her, "You need to get angry before every game. The Beth Mead that's angry is going to be a superstar…what do I need to do to get that? Piss you off before a game?"
Perhaps one of the reasons that we like and in fact expect to see some form of aggression from our players aligns with the unspoken contract that teams agree to before the whistle blows – the desire and willingness to compete.
Under this context, where each set of eleven know what they're signing up for, is aggression seen as socially acceptable?
Fan favourite at Borehamwood, Katie McCabe is no stranger to displaying aggression on the field (the Chloe Kelly 'ball to face' anyone?)
So much so in fact, that a Twitter fan account named "Did Katie Mc Cabe get a yellow card today?" has been created – the analogy akin to asking an Irish person if it's rained in Ireland today (I'm Irish, I can say that – and yes it has.)
Topping the count for yellow cards issued in the WSL this season (number seven, lucky for some) it comes as no surprise that the twenty seven year old has suggested that yellow cards should be scrapped (yes I smiled at that one too.)
Speaking to Sky Sports, McCabe opined: "I'd like it [football] to be more physical, to be honest.
"So like, less yellow cards – [even] no yellow cards. Sometimes I think the physical aspect, that's what it's there for. It's a physical game."
Across social media platforms like Tik Tok, fans of Arsenal Women have invested hours upon hours producing and editing content that, in full HD colour, depicts the aggression and passion shown by their favourite players.
A short clip of Beth Mead, shoving Jana Fernández in a UWCL match against Barcelona, overlaid with an RnB track has gone viral, while a quick search of the keywords 'Katie McCabe angry' on Tik Tok reveals a plethora of clips.
"I love it when she's angry," One fan swoons to a clip of McCabe pulling on the arm of an opposition player.
And what about athletes in contact sports? Do they get something out of being aggressive on the field?
The answer would appear to be in the affirmative.
Studies have found that in some physical contact sports, aggression and violence are a primary source of players' excitement, pleasure, and satisfaction and therefore a major factor in their motivation to take part (Kerr, 1997; Novak, 1976; Russell, 1993).
And it's not just the female footballers of course.
Looking into Arsenal's past, legendary centre half Martin Keown was notorious for his aggressive style of play, his infamous clash against Ruud van Nistelrooy at Old Trafford the most famous incident during his fifteen season spell at Arsenal.
However, according to the man, the myth, the legend Ian Wright, the key to aggression on the field lies in how it's applied – as in, understanding and getting a handle on it's root cause.
Well documented is Wright's traumatic childhood, in which he was forced to witness domestic abuse.
In an interview with The Player Tribune, he talks about how this affected his style of play, from a child to an adult.
"Everything was fight because in the house I didn't have any power…what I found was that when I started playing football, I got respect and power…[but] when I got tackled I didn't know how to deal with it…I didn't know how to deal with better players who could deal with my so-called skill and my pace an that."
Yet after seeking the help of a counsellor, Wright was able to not only understand, but channel his aggression, minimising the risk of negative repercussions for both himself and his team.
"I got myself into a situation where I was able to channel it, Wright continues. "I could channel my aggression… people thought I got sent off a lot – I didn't get sent off a lot. I must have got sent off in my whole sixteen year career.. I think I got sent off five times and four of those was in the last eighteen months."
And channel it he did, netting 185 goals in 255 appearances for The Gunners.
Back to the present and the end of a season so traumatic, it has inspired it's very own T-shirt, courtesy of The Art Of The Arsenal.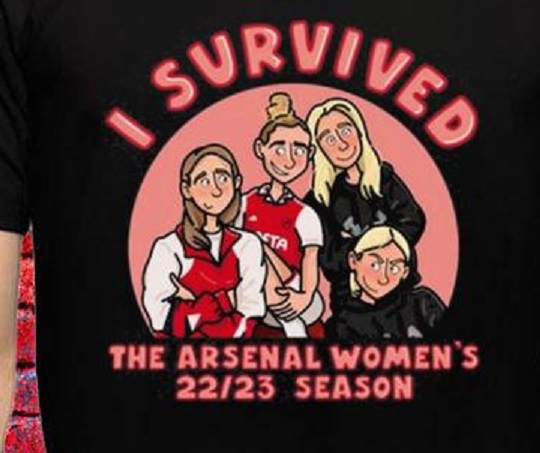 Given the hurt and indisputable cruelty that our women's team have been subjected to throughout the 22/23 season, both physically and emotionally, along with that heartbreaking near miss in the UWCL semi-final, something tells me that the women in red, white and gold will have rockets strapped to their boots – to quote a Green Day classic – 'When September Ends'
Yes, Aggression will most certainly be in our Arsenal.
Christine Allen
Follow Christine on Twitter.
Do you want to read more about the Arsenal Women's Team? Follow Just Gooner Women on Twitter for regular updates on the Gooner Women!
---
Credits and links……
Art of The Arsenal T shirt
https://printshoptee.com/product/artfromthearsenal-i-survived-the-arsenal-womens-22-23-season-shirts/
Beth Mead fight
Mead and Katie fights
https://www.tiktok.com/@aemccxabe/video/7182726660028943621
Katie McCabe Angry
https://www.tiktok.com/discover/katie-mccabe-angry
Katie Mc Cabe – scrap yellow cards
https://www.givemesport.com/arsenals-katie-mccabe-reveals-why-she-wants-yellow-cards-to-be-scrapped/
Keown and Van Nistelrooy
https://www.irishmirror.ie/sport/soccer/keown-van-nistelrooy-arsenal-manutd-28285500
https://www.facebook.com/footballdaily/videos/ruud-van-nistelrooy-missing-a-penalty-and-martin-keown-getting-in-his-face-post-/423143398406055/
Ian Wright on playing and aggression