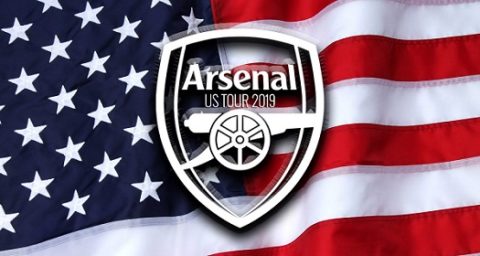 How Much Will Arsenal Make From Our Tour? By Dan Smith
Many Arsenal Fans have said they would only start to worry if there were no new faces by the time we flew out for our tour of the US, well we fly out tomorrow….
It doesn't matter when the move for Saliba is confirmed because that doesn't help us in the present. In fact, the two signings made this summer have been very much with the future in mind.
Meanwhile the only player sold has been Ospina, meaning, throwing in those who were allowed to run down their contracts, this is a weaker squad boarding the flight then the one we last saw in Baku.
It seems the Zaha saga has worked as a smoke screen, gooners buying new shirts because we are showing ambition? Conveniently for the gunners our Number 1 target is away at Cup of Nations (apparently the recruitment team can't fly out to Africa).
In the comments I have read that it's obvious our budget is bigger than 45 million when you add up total of bids made. Yet let me put it the other way. If deep down we are willing to get the Zaha deal done, why offer half of his valuation? Why are we buying a defender based on our transfer kitty in 12 months' time? And my favourite. If the true figure is 70-100m to spend, why for a month now have we been haggling over every last pound for Tierney, when Celtic have asked for a reasonable price?
Of course, there is a difference between being skint and just choosing to keep the cash in the bank. Trust me if our owner wanted to, he could easily find extra funds. Yet the American isn't bothered about his name being chanted at Boreham Wood, he's excited about his English 'franchise' visiting his country.
You see, a quick study of the International Cup makes it clear that the idea we are financially hard up is wrong. Depending where the continent you are based in for the next 2 weeks, appearance money is 15-20 million, just for showing up (remember that when managers moan about players being overplayed). That increases based on match day revenue (flights and accommodation are paid for as well) Not to mention the thousands of shirts they will sell at each game….
Via Arsenal.Com, this is how much tickets cost …
Colorado Rapids – 49 – 167 dollars (Remember the Rapids are also owned by Kroenke)
Bayern Munich – 49 – 800 dollars
Fiorentina 35- 375 dollars
Real Madrid 60 – 366 dollars
This doesn't include tickets being resold on the site as well as VIP /hospitality packages heading into the thousands. Now let's remember this is meant to be pre-season friendlies yet we are charging the same as a Premiership Category A game at Emirates.
Now consider….
The Dicks Sporting Good Park holds just over 18,000.
Dignity Health Sports Park just over 27,000.
Bank Of America Stadium just over 75,000.
FedEx Field just over 82,000.
Now add that 12 of the biggest teams are playing in the US, Asia, Australia and Europe with all 18 games televised, everyone is making a massive payday.
This is a week after the launch of a sponsorship deal which will make 60 million every year for the next 5, bettered only by Man United and Barcelona. But we have only 45 to spend?
So, when our PR machine hype this is good for our global Gooners, it's false. We are simply a brand. That's why it doesn't matter if we are in Europa League or our League position, we are a brand which makes Kroenke money regardless…
Dan Smith