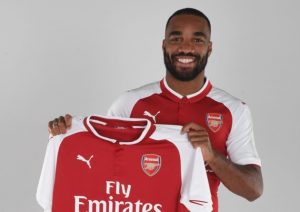 I know it's only pre-season and you can't expect all the Arsenal players to be fully fit just yet, but Alexandre Lacazette has featured in quite a few games and has scored two goals as well. That is not a bad start in my book, especially as hasn't played with our full first team around him.
His second goal came in the loss to Sevilla yesterday, and Wenger is pleased with the Frenchman's 'eye for goal'. "For a striker it's vital," Le Prof said. "I think he has shown some good things. He was not involved a lot because we didn't have a lot the ball today, like we're used to having, and the strikers suffer from that. Overall, what he has done is good.
"It's his strength. He has a very strong record in scoring goals and that comes from the fact that he is in the right positions in the box and anticipates well. Overall, that is a very important quality that will be needed throughout the season."
Well he was made our record transfer fee to score goals, so do we care whether he is impressive or do we just want him to put the ball in the back of the net. Are you happy with what you have seen of him so far?
Admin