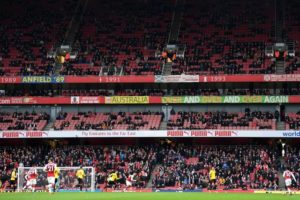 There have been many variations to the number of Arsenal fans that actually went to the game against Watford this weekend from 'half-empty' to 'several thousand missing', but whatever the reality it was enough for Arsene Wenger to admit that he needed to get the fans back onside. "Yes, of course I worry because I want our fans to be behind the team and happy," Wenger said.
"But after what happened in that week, it's a bit understanding – you know – we are in a job, we have to get the fans on our side and do absolutely everything to do it, to achieve it; that's what you want to do after that."
Henrikh Mkhitaryan also noticed the empty seats, but he went a bit further and said that the ones that stayed away could not be considered 'real fans' compared to the ones that turned up despite our awful recent record. "We're always playing for the fans, it doesn't matter if they could have come today or not," Mkhitaryan said.
"We're always playing for those who come and support us; [those] who are really coming and supporting us are real fans.
"[To those] who are coming to the stadium just when we are winning we have nothing to say. Just thanks to the fans who were supporting."
Is that a fair thing to say? Are the fans that didn't turn up also being passionate and letting the manager and Board know that their feelings have driven them to stay away? Or is it just apathy after so many years of no titles?
Darren N