Ever thought you could have finished that chance Olivier Giroud just missed? Or that the killer passes Mesut Ozil makes look easy, are actually easy?
There is only one way to find out – put on those boots, don the prized 1980's Arsenal strip sponsored by JVC and show the world just how good you are.
A player of your undoubted calibre doesn't want to use jumpers for goalposts or play on a second-rate paddock; that is why you need to search out your nearest Goals football facility this January.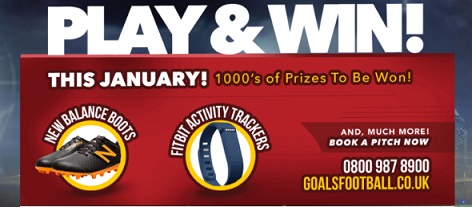 Goals are the world's largest operator of five-a-side pitches and have over 500 purpose built football facilities around England and Scotland for those serious about the beautiful game.
With immaculate artificial surfaces, games under floodlights and state-of-the-arts facilities, there is no doubting that Goals offer just about the best football experience short of stepping out at the Emirates Stadium.
This January, playing the sport we love became even more enticing, with 1000's of prizes available for anyone participating at one of the Goals facilities over the next month.
Get your hands on enviable goodies such as New Balance boots, Fitbit activity trackers and a host of other top prizes, simply by playing football – seems too good to be true!
To set up this idyllic experience simply go to the easy-to-use Goals website, where you can book a one-off pitch or join an existing league.
Got enough mates and teams keen to play? You can even start your own league and ensure bragging rights are there for the taking.
Goals also have function rooms for hire, not to mention on-site sports bars at each facility complete with free wifi, BT Sport and a cold pint as liquid refreshment after you play your game.
The cost of a match is between £60-£73 per team; a small price to pay to showboat your skills and regale anyone who will listen of your long-range goal in the bar afterwards.
The all-weather pitches mean that wind and rain are no excuses this month, so get onto the Goals website now and show everyone that you are Dennis Bergkamp reborn.