One of Arsenal's most important players has issued a rallying call to fans and his teammates, the star revealed that he's confident of winning the Europa League this season.
According to the Metro, Arsenal star Rob Holding is confident that the Gunners are 'more than capable' of finishing in the Premier League's top four this season.
The ace also added that he's confident that this side can win the Europa League. Holding hinted that a triumph in the cup competition is his 'first and foremost' priority.
Holding was speaking ahead of Arsenal's clash with Portuguese outfit Vitoria this evening.
Unai Emery is well known for his success in the Europa League, given his triumphs with Sevilla. It looks as though this is rubbing off on us as we've looked stellar in the competition so far this season.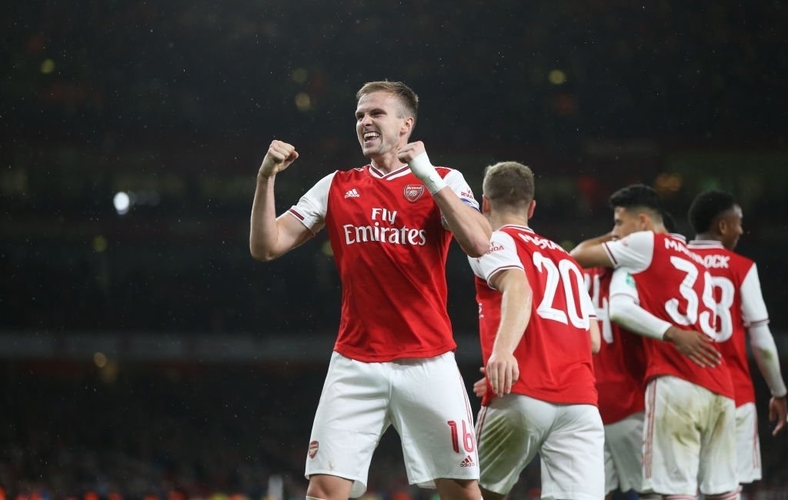 Here's what the Englishman had to say on his hopes for Arsenal this season:
"Top four is more than within our capability,"
"I want to win the Europa League first and foremost. We got to the final last year but I was injured and I didn't get to play in it. 'Top four and a Europa League trophy would be a brilliant way to end it."
We'll be hoping to continue our winning run in Europe tonight, we looked devastating going forward against Eintracht Frankfurt and Standard Liege.
Holding certainly seems like the kind of character that can help us back to the top:
"Rob Holding feels really Arsenal Football Club and I want players like him in the dressing room. When I saw him on Tuesday I thought 'wow!' He's coming back – Rob Holding!"

– Unai Emery pic.twitter.com/rDAOWQlOxF

— DailyAFC™ (@DailyAFC) September 29, 2019
Focusing on the Europa League is all well and good, but we have to ensure that we have what it takes to win the all-important final if we're able to get to that stage this season.
We were embarrassed by rivals Chelsea in last season's 4-1 final defeat.
The lads can't take their eyes off the Premier League just yet though, our results were impressive before our defeat to Sheffield United on Monday night.
Hopefully Emery can make better use of the squad in the future as we look to challenge the likes of Chelsea and Leicester for a spot in the top four this season.