What Arsenal fans should expect this Summer by Sean
This Arsenal team has a lot of quality and are on course for a Top 4 finish this season to everyone's amazement, including my own, and are guaranteed some form of European football already next season at The Emirates.
We do have the advantage again after our 3-game losing run but did ourselves proud with the turn around against the bigger teams and we are where we are now, 2 points ahead of Spurs in 4th awaiting Leeds this Sunday when Tottenham play Liverpool the evening before.
Mikel has now just signed a new contract
with 4 games remaining of the season, maybe just a tad early, but whatever, Congrats Mikel. He is the reason we are in this position with his rebuild so kudos to him as the fans are onside with him as is the whole club.
If we do get Champions League Football, even if we don't we still have EL, but according to Mikel he wants 22 outfield players & 3 GKs. We have a few returns incoming this summer and a lot of exits. This is what we may have come the summer.
Ramsdale, Turner & Okonkwo.
– Leno will be sold. GKs ✔️
Gabriel, Saliba, White & Holding.
– Dino only departure. CBs ✔️
Tierney & Tavares.
– LB ✔️
Tomi & ???.
– Soares & Bellerin to leave. RB ❌️
Partey & ???.
-We need someone to help. CDM ❌️
Xhaka & Lokonga.
-Not enough. Elneny gone. CM ❌️
*We need 2 good midfielders*
Saka & Nelson.
-Pepe to leave. RW ✔️
Eddie & ???.
-Get Eddie on a new deal, let Laca leave & go buy a goal scorer. CF❌️
(Balogun season long loan)
Martinelli & ???.
– a new winger is needed on this side, Smith-Rowe can play there too but we need a replacement for Pepe but for the left side. LW ❌️
Good thing about our youngsters is they can play in various positions for rotation, form, fatigue or injuries. Plus they are growing as a team together, gelling more & playing some great football, only to get better over time.
Our youth system is full of talented youngsters playing there or out on loan & they will get a chance if they are good enough. One of the reasons Mikel is also doing a great job with the young guns by showing them the step up can be done and will be rewarded if good enough.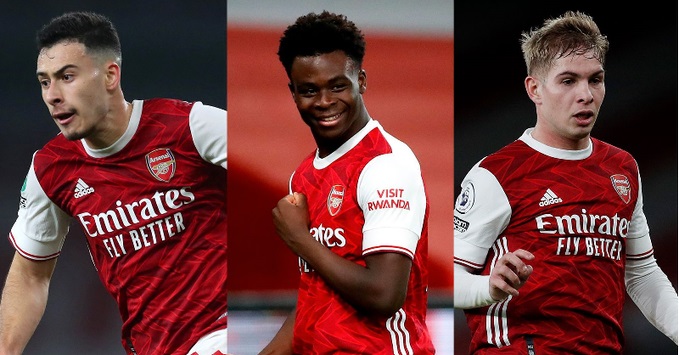 With Bellerin, Leno, Dino, Elneny, Soares, Laca, Matteo, Lucas & Pepe all having one foot out the door already, we will make some money off some sales and save on the wage bill, which has came down loads and will continue to this summer with the exits. At least £70m in sales & all wages off the books to add to our pot to add to the squad, a proper CF may take that whole pot.
A lot of money could be spent for a CF, CDM, CM, RB & LW but I can see a few Academy players maybe stepping up also.
1. Is Mikel deserving of new deal & was it right time to announce? Would getting the Top 4 not have been a better time to announce it?
2. Who would be the right profile of player to slot into the positions mentioned to take us to next level especially if we are in UCL?
3. How much can we get for the players leaving above apart from Elneny & Laca? Would you keep any of the departures to be?
Just something to discuss. Bring on Leeds this Sunday…
Sean O'Hara
CALLING ALL ARSENAL FANS! Anyone who would like to contribute an Article or Video opinion piece on JustArsenal, please contact us through this link…
Video – Mikel Arteta on his new contract, Leeds game, and incoming players…