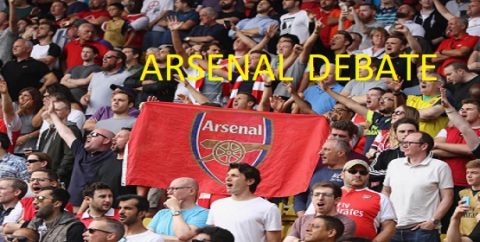 The future looks bright by AndersS
Arsenal should aim to win the PL. No doubt about it. It must be our goal, and anything less is unacceptable. But is it realistic? How? When?

2 seasons ago we were a massive 37 points behind the EPL winners and although that gap last year was cut to 28 points, it is still a huge difference to make up. Given we don't have an owner, or rather a sugardaddy, with almost unlimited amounts of money to spend on the team, we have to find another way.
I will suggest that other way can't be to hope for a "miracle season", like the one Leicester had a few seasons ago. We must be a bit more clever than buying a lottery ticket.
Before this season started I found it unrealistic that we could compete for the title. I think we had a good transfer window, but there is no way those improvements would be enough to close the massive gap we have to Man City and Liverpool. Unless they implode, we are competing for 3rd, and I still think this is the situation.
Now, I am sure a lot of fans will argue, if we had another manager, we would do much better. I am not going to go into that discussion, as it is already in full flow in as good as every article on this site at the moment. But I will say, I don't think any manager in the world could turn us into champions this year. We were/are too far behind, and maybe another manager could do better than Emery. But champions this year? I am sorry, not realistic.
For me the only realistic way for us to compete for the title, is to take a longer view, maybe 2-3 years, and develop a team, which by then will be ready to compete for the title. I think the current regime is doing exactly that, and it seems to me they are doing a fine job.
In 2-3 years, we might have a completely different squad to the one that finished 37 points behind City 2 seasons ago. Nearly every position could be with a different and, hopefully, a better player. When you can't just go out and buy whichever world class player you desire, that really takes some clever planning and a huge football knowledge. It also takes the courage to trust and develop young players and providing the current trend continues, we could see this squad in 2-3 years:
GK: Leno/Martinez/Macey
RB: Bellerin
CB: Holding/Saliba/Mavropanos/Medley
LB: Tierney
MF: Torreira/Willock/Smith-Rowe/Guendouzi
Attack: Pepe/Laccazette/Saka/Nketiah/Nelson/Martinelli
Not many players left from the season 17-18.
If you think about it, it is not only very drastic to give your team such an overhaul in only 5 years. It is also very ambitious, and you could possibly excuse some periods, where the team won't look very organized.
All the players above are at an age, where they should still improve quite a lot in the coming years, and as such it looks very promising to me. I admit, we haven't seen Saliba and Tierney and there are of course many uncertainties, but overall I am confident, many of those can make a strong Arsenal in the future.

There could be other players in the current squad, that may still be in the frame in 2-3 years, but I don't think it will be many. They simply aren't good enough for a squad competing for the title, or they may be too old in a few years.
The 2-3 year perspective does not mean the next 1-2 years are without meaning. On the contrary. It is very important we offer the players the right opportunities to develop and it is very important, we economically can offer salaries that will keep the players here, and will attract the ones we need. Champions League football is close to being crucial to this.  So although top 4 is not "the goal" it is an important goal until, we are ready for something bigger.
Going by the above, I think we will see our coming transfer windows concentrating on the following:
Additions to RB and LB

Maybe a promising CB or even better, an experienced CB with 4-5 years in him (if we can find one)

1 or 2 additions in Midfield

One attacker suited to play on the right wing as backup for Pepe
Should be possible to do in 2-4 transfer windows.
This is what I think our coach and management are planning towards. To me it looks good so far.  
What do you think?
 AndersS