All the latest Arsenal transfer rumours have been saying that the Gunners had made PIERRE-EMERICK AUBAMEYANG their top target for the summer, after the Gabon international's incredible season at Dortmund where he has already scored 32 times in this campaign.
But the 26 year-old has made it clear that he has no intention of moving to the Emirates in the near future, and has only recently extended his contract at the Bundesliga side. But he did admit that if he was to move in the future, there is only one destination he would consider. "Dortmund is a football-crazy city," he said yesterday. "During the past few years we have had the highest attendance average in the whole of Europe.
"It's a safe city to live in and my family are very settled – they feel right at home.
"I've never hidden my dream to one day play for Real Madrid, but I have extended my contract with Borussia Dortmund until 2020 for a reason. I feel very happy here."
So Arsenal fans can definitely stop dreaming about that superstriker coming to town. I must admit that I doubted whether Arsene Wenger would have even contemplated any player at that price anyway! How many bingo bonuses would Le Prof have had to win to pay the asking price?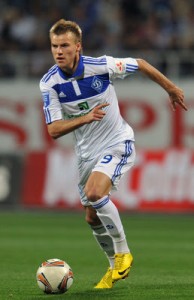 Another European giant that Arsenal have been linked with since January is the Dynamo Kiev star Andriy Yarmolenko, who scored the winner for the Ukraine in the 1-0 friendly success over Wales on Monday night. Yarmolenko 26 has been linked with a £22million switch to the Emirates and now his international boss Mykhaylo Fomenko has told his star to jump at a chance to play in the Premier League.
Fomenko said: "If he is wanted by the top English clubs then yes he can show his best in the Premier League and he must do this.
"He is the leader of our team and leader of our squad."
Yarmolenko may not score as many goals as Aubemeyang, but he is only half the price (and is a lot easier to spell!). He is also an inspirational player and if there is one thing that Arsenal need now, it is a leader on the pitch….