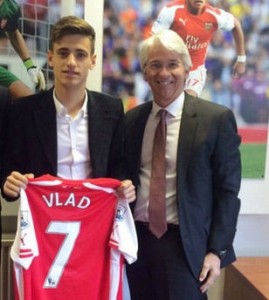 Well we have all been waiting desperately for Arsenal to finally confirm that the Gunners have finally completed the deal for Chelsea's Petr Cech, but it has just been reported that there is likely to be an official announcement about Arsenal signing "one of the most talented players in Europe" before the Cech deal is complete.
Today's Express has revealed that the 16-year-old Vlad Dragomir is set to officially join the Gunners on June 29 after confirming that a contract was signed today. The player's agent Catalin Sarmasan told Romanian website Prosport: "I proposed a move to Arsenal a year and a half ago, and they have monitored him closely since then.
"In my opinion, Vlad is one of the most talented players in Europe at the moment."
Dragomir currently plays as a midfielder at FC Timisoara in Romania and is obviously extremely highly rated, which is why Arsenal are willing to pay a reported £70,000 in compensation for the youngster. There is not much information around about Vlad at the moment, but I have found a video made six months ago showing his talent.
See what you think…..