I believe its high time Arsenal start playing and more importantly look to start thinking to play like Arsenal of the old. Whats stopping us from doing that! Well too many cooks spoil the Broth. Too many playmakers playing the No. 10. This needs to be stopped.
The key area should be acquiring a beast of a Defensive Midfielder who can defend the back 4 and more importantly should look imposing on the opposition.
Carvalho fits the bill like no other as he is young and can be easily molded into Arsenal's style of play and sync with the rest of the team and importantly go on to serve the club for a long time.
The next key area is defense. Nastasic is young and strong and he along with Chambers can be groomed to be the next defensive wall for the club.
Strike force is addressed with the acquisition of Welbeck (with age on his side), can be groomed to be a force to reckon with.
Now the money to finance the purchases of Carvalho & Nastasic. Sell Ozil. Yes Arsenal must sell Ozil for many reasons. Firstly, over abundance of playmakers, secondly he has had no impact with the level of game Arsenal play unlike Sanchez who has lifted the game and boosted our attack. And then the most important reason of all, Ozil is the one player in the team whom we can afford to do without and at the same time generate huge amount of revenue from his sale. This can be perceived and thought as very radical and extreme but in the grand scheme of things this would benefit the club as the purchases are young players who can be molded to the needs of the team unlike Ozil who has stagnated and is a one-dimensional playmaker with very less or no eye for a shot on goal.
Below is the team I propose which could usher our club into the next era, an era where Arsenal can reclaim the tag of being a solid team all round the pitch. Attached is the image of my proposed team with the players in order of preference.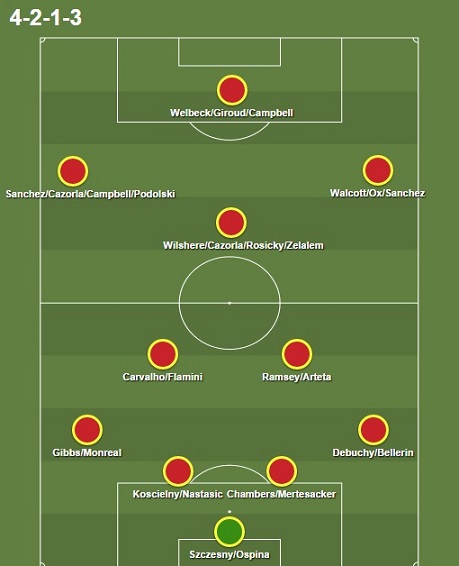 Formation: 4-2-3-1
GK: Szczesny/Ospina
LB: Gibbs/Monreal
CB: Koscieslny/Nastasic
CB: Chambers/Mertesacker
RB: Debuchy/Bellerin
DM: Carvalho/Flamini
DM: Ramsey/Arteta
RW/RM: Walcott/Ox/Sanchez/Gnabry
AM: Wilshere/Cazorla/Rosicky/Zelalem
LW: Sanchez/Cazorla/Campbell/Podolski
CF: Welbeck/Giroud/Campbell
Thank You!
Santosh Balivada