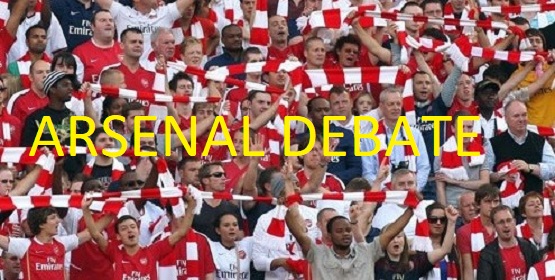 Last week, Vinai Venkatesham and Raul Sanllehi hosted the first fan's forum of the season. I wanted to wait till the club posted the minutes onto their website before I gave my full comments. I have given my opinion on certain views that came to me, and feel free to share yours in comments.
I always find it funny that the first things fans are told is not to ask about football matters related to on the pitch.
(My Comments are in Italic, the Club's in Bold)
Managing Director Vinai Venkatesham explained the Government is considering changing legislation to permit safe standing but there is no clarity as to when this will conclude (seems like for season 2021/22 at earliest if there were to be a change). . However, it is a very complicated issue and the pros and cons need to be evaluated fully and weighed up in conjunction with fans. He said the stadium was not designed for safe standing and the key issue is capacity; safe standing cannot increase capacity (as 1 seat = 1 standing space). He said we have conducted an internal study which has established safe standing is only possible in the lower tier as the rake (steepness) of the upper tier is likely too high for standing to be permitted. Unfortunately the shallow rake of the lower tier means there may be sightline issues for fans that remain seated behind or adjacent to standing fans (creating seat loss). The alternative of making the lower tier steeper would mean we would lose multiple rows at the back of the lower tier due to the overhang of Club Level restricting views. Given we sell out for matches we would obviously need to carefully consider the impact of less fans being able to watch games at the Emirates vs. the benefits of safe standing. Whilst the capacity issue has been looked into in detail by our internal study, he explained that we have now commissioned a study by external stadium experts from Holland to review what can be done from a third party perspective. We expect this to be completed by end of November and will bring the results back into the Fan Forum for discussion.
The club are looking into safe standing at the request of fans who feel it might improve the atmosphere at the  Emirates.  Given that it will lose us money as in smaller attendances , you have to ask is the juice worth the squeeze. While it's interesting to hear about financial implications I would rather have assurances that people not standing is 100 percent safe, that should be the priority when having this debate. When you think back to Hillsborough , the governing body cleaned up the game by making it a lawful requirement for all stadiums to have seats. To risk that the sake of atmosphere is not a good enough reason. One accident, one broken bone, one death, is one too many
Ivan explained Ticket Exchange is a major part of our approach to combatting ticket touting
Ivan said the Club is looking into providing a ticket donation service and is working with our ticket provider on this future development. We currently provide thousands of tickets to local schools and good causes through our community department. Vinai pointed out that in terms of ensuring maximum attendances at the Emirates, Ticket Exchange is important but we are kicking off an internal project as this is a challenge for the club and the game as a whole. This will include looking into home credits
The club are not going to prioritise this as they don't lose money. The majority who decided to give up their seats are likely season ticket holders who therefore have already departed with their money. If a fan decides at the last moment not to go to the game what incentive is there to go through Ticket Exchange. The idea of making the club even richer isn't one. If they knew they were helping their own though I feel they would be inclined. An advertising campaign could show any tickets put up for Exchange being offered to hospitals/ schools etc for 10 pounds, say. That way everyone wins.
00his question a copy of a letter we recently sent to UEFA regarding suggested improvements for how UEFA stage their finals following the awful experiences with Baku. Please can this letter be circulated to other Fans Forum members. We would like Arsenal to publicly support the proposals in the letter and add to the pressure on UEFA for change. 7 Vinai and Raúl reminded people how we expressed our concerns at the time, with regards to the situation for our fans and the fact we (club and player) felt we couldn't select Henrikh Mkhitaryan for the final. We are continuing dialogue with UEFA on these matters
Arsenal and Chelsea waited till they were in the Final to raise concerns, knowing Baku was the venue a year in advance
it wouldn't have hurt to of asked UEFA if for example we advanced that far what were we expected to do regarding Mhkitaryan? A little bit like the racism issue what we are waiting for is someone to take a stand. Imagine as soon as the venues were announced for both European Cup Finals all English sides boycotted till assurances were given about ticket allocation?
While I understand football is the world's game, the top 8 Leagues in Europe would have been able to argue without arrogance that their was a high chance the finalists were going to come from their Countries , making Azerbaijan a logistic nightmare. If all top Leaugues had led a protest UEFA would have had to listen but for the same reason the fixture was picked for Baku is the same reason we will only pay lip service to it……money. For the record next year's Final will be held in Poland.
AST • As next season is the 50th anniversary of 70/71 double winning season what plans does the Club have to commemorate this achievement? Would the Club host/ support a Supporters Dinner with the proceeds going towards those squad members most in need? Mark Brindle said this is something we are exploring. As a club, we have provided support to several the squad from this period but we also recognise this may be the last time we can get everyone together to celebrate the 71 double. He said this is something we will work on with fan groups.
The club are good at this kind of thing to be fair….
• Is there any possibility of a student discount for or extending the concessions to include students and/or young people for an Arsenal Women's Membership? The price of full membership stopped me, as a student with limited funds and away from London for half the year, from purchasing, but I would have done so if it were at concession price. Is there a chance to include us as concessions for this? Ivan Worsell said we have put forward this suggestion to the women's marketing team and will update the forum in due course.
I have written before that some sort of joint promotion should be built around the men's and women's games. If, for example, you have a membership, could there not be inclusion of women's games. I still push for Women's matches to before or after the men, meaning sometimes you get 2 games for the price of 1. Remember 80,000 fans have bought tickets for England women vs Germany at Wembley, this was unheard of a few years ago. That means there has been a rise in interest since the World Cup and we need to take advantage of that boom period
• AISA would like to raise and discuss the issue of whether there are FA guidelines on how supporters in the stadium are informed about referrals to VAR as there seems to be considerable confusion about this at the moment? Mark Gonnella said there are Premier League guidelines. Stockley Park is in ongoing contact with the officials and there are many checks as the game is in flow. If the match is going to be delayed for a full review they will liaise with our control room who will post the appropriate VAR message on our stadium screens.
Be Kind in Comments
Dan Smith