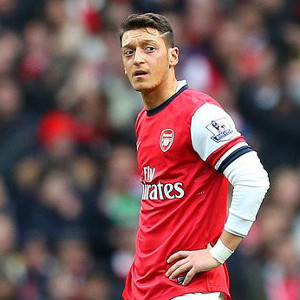 Going by yesterday's game at Cardiff, it would appear that Unai Emery has decided that Aaron Ramsey is to be Arsenal's first-choice Number Ten behind the strikers, and the coach has spoken to Mesut Ozil about him being moved to the right wing. Emery said last week: "Mesut in his career, he played as a ten and on the right — when he was playing at Real Madrid, I remember a lot of matches on the right.
"His quality is for playing between the lines. But I spoke with him for his best position on the pitch and I know he can play right and as a ten. And he wants that I can use him for two positions."
Ramsey played very well yesterday to cement Emery's thinking, but if Mesut Ozil can play on the right wing he certainly didn't show it yesterday. According to whoscored stats, in the 83 minutes he was on the pitch Ozil made one dribble, one cross and had one shot that was blocked. Considering we spent most of the game in the Cardiff half that is quite a woeful record.
Emery was asked what he thought of Ozil's performance after the game and he replied: "I want to give every player the same condition and every player is very important, but with Ozil and his quality I think we need to give us his moment in the match with his quality for the team. I think today in the second half he played a good match because he worked every minute that he was on the pitch. And maybe with the control and possession in the second half and the positions on the pitch, he feels better on the pitch."
Really? He didn't look very happy to me, and in fact he was taken off the pitch with 7 minutes to go and replaced by a real winger in Danny Welbeck. So I don't believe that Emery was happy with him either. So what should we do with Ozil now? Should he be a reserve for Ramsey to give the Welshman a rest towards the end of games when he is tiring? Or should we use him in the Europa League along with Lichtsteiner and Leno to give us the best chance of Emery winning the trophy again?
Or should we persist with playing him out on the wing?
There is also the possibility of selling Ozil, but the fact is that he would be a big drain on any club's finances. A new tool has been created which let's you see how your club looks after it's finances and it makes for very interesting reading. Maybe it will help to explain why the Gunners can't afford a luxury like Mesut Ozil!
Darren N