I know Arsenal's defensive problems are no laughing matter right now, especially as Arsene Wenger has now told us that we will have to do without Larent Koscielny for yet another month, but I just had to laugh when I saw Wenger saying that Koscielny's achilles problem was caused by a spicy French Sausage!
Wenger said in yesterday's injury update: 'He has not started running outside, so you cannot think he will be available in two weeks,'
'He will not be available for three or four weeks.'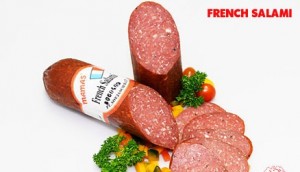 'There is no need for surgery. His achilles on the scans are quite good. It's just inflammation. Too much French salami,'
'You miss him every time you concede a stupid goal. You think, "Oh, if he was there", but we have conceded some with him as well. Could we have stopped goals without him? I say yes.'
All I can say is that I seriously hope that French Salami is banned from the club canteen if it can cause such serious damage!
With David Ospina, Debuchy and Arteta also taking no part in tomorrow's game against Swansea our lack of defensive options is yet again highlighted, but Wenger also revealed that Theo Walcott will need more time to get a starting spot in the team. He said on Arsenal.com: "In our job, every time you have a big injury, there is a bigger chance of having another,"
"Overall he has been taken care of very well.
"He is now ready to play again and we just have to leave him in peace and give him the time needed to come back.
"He has been out for 10 months – I don't know if you realise how long that is. People think it's like mechanics.
"Players are not machines, they are human beings and to get back into the rhythm of the top, top competition will take time."
Yes it will take time, and of course a well-managed diet. Just make sure he doesn't go near any French sausages!