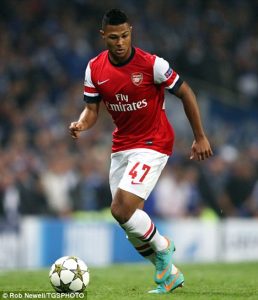 During the summer it came to the surprise of many fans to see one of the brightest Arsenal talents, Serge Gnabry, leave the club in a quick turn of events.
After a very poor previous season, it was hoped that Gnabry was going to get a chance to shine for the Gunners or out on loan this season. There was plenty of promise surrounding his talent at Arsenal and having spent many years on aiding his development, it seemed a shame to lose him in such pitiful circumstances. Gnabry was sold to Werder Bremen for around £4.5 million after five seasons for the Gunners.
Gnabry had only accumulated a single Premier League goal at Arsenal, as he found the back of the net vs Swansea. However with him in and out of the squad, it was difficult for the youngster to get a good run of form going. Despite this, it was still hoped he'd get another opportunity to show us his talents. Instead he's now off showing the rest of Europe exactly what he's capable of.
After an impressive summer olympics representing Germany in Brazil, Gnabry made his international debut against San Marino. The 21 year old scored a hat trick and as a result, plenty of glares weren't sent from fans in the direction of Arsene Wenger. Such was the response to Gnabry's hat trick, that Wenger has today had to come out and give a statement that indicates that his hands were tied when it came to the sale of one of the club's brightest talents.
Wenger revealed in a report by the Metro: 'We didn't want to get rid of Gnabry, we wanted to keep him. But he was in the last year of his contract. We were close to extending his contract but finally he changed his mind and went to Werder Bremen.'
In hindsight it's very easy to say we can be disappointed that the German left the Gunners. However realistically he moved on because he realised opportunities in North London were hard to come by. After five years, Gnabry was consistently given chances in pre-season, but when the campaign kicked off, he was always at the back of the line. Seeing the likes of Ox and Walcott misfire so often in the first team must have been frustrated when he's struggling to get Wenger to pick him and so I think it's understandable to see why he wanted to leave.
One thing I think Arsenal should have considered, if they didn't that is, is to include a buy back clause in the German's sale. It's a common practice for clubs to sell young talents with buy back clauses inserted so they can buy the player back if they do turn out to be world class. It could've been a costly move but given that Gnabry has really shone since his move to the Bundesliga, I think he may be another player that Arsenal will regret letting go.
By AH