Better from Arsenal, Perfect from the fans by KM
It was a fine weekend for the Arsenal family. After the disappointment of last weeks result vs Man Utd. we really needed that win, and unlike the Swansea game we were ready to defend for it. It was scrappy, we got lucky with the bar and 2 off sides, where Berahino was one on one with Martinez, but it was still better.
On the attack, we were scrappy as well, we missed chances and we made life difficult for ourselves. We should've scored in the first half – Welbz and Ramsey – 2-0 up and then just rest in the second. Instead we dropped physically and really had to dig for it. I liked how the team looked with two strikers. It was a change, and we so badly need one, that every change is a breath of fresh air. Giroud and Welbeck make us really tall in the box and it will be no surprise if we score a lot of headers this season.
The best thing of all though was where the away fans were sitting and the banner they held. People underestimate the value of a banner. We get bombarded with banners that subconsciously affect our lives. This one said it all though. "Arsene thanks for the memories, but it's time to say goodbye".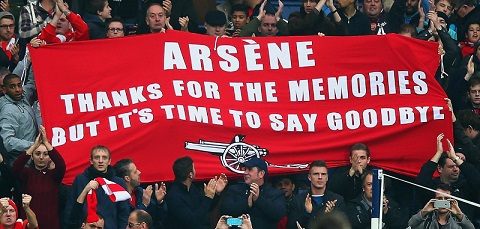 I feel really proud of this action the Arsenal fans have done, because i have been repeating myself like a broken record, but now it seems that most of us start or have realized that this win doesn't mean a corner has been turned. Wenger will make the same old mistakes like before and we will move no further than 4th. We reanimated a United side. We brought them back from the dead by giving them an away win (one the likes of Leicester didn't) they didn't expect at all.
I just wonder how big is this. Are we gonna see the "Wenger out" spread through the Emirates on the home games? He didn't want to comment on it after the game. Why not Arsene? You don't like the fans opinion? The media feed of those stories, they will make a forest fire out of a lit match, and if this keeps going the pressure will be on, and something will have to be done.
Arsene Wenger said: "I try to do my best for this club that I love and we are very united with the players and the staff around the team and that's all you can do,"
You simply cannot ignore the fans, because they are the ones that create all the money that football runs on. I salute every Arsenal fan that put a penny into the Arsene out campaign, because it costs so little for a banner, but it has a huge influence. I just hope that this grows bigger, that the board and Wenger get the message that 4th is no longer good enough for us. We gave Wenger a lot of chances, the board gave him money. The results against the top clubs speak for themselves.
It's time for a change, "Enough is enough, Wenger out!"
Konstantin Mitov