It appears that the opening games of the Premier League have been leaked online and while we have not been handed an away tie at Manchester City it is still a tricky first game of the season.
Apparently, we will be away at Crystal Palace on Saturday, August 10th and that is far from a given three points.
In fact, compared to the other top-six teams it can be argued we have got the most difficult game, though City away at Wolves will not be a walkover either.
Full list of opening day games
Saturday, August 10
12: 30 Tottenham v Norwich
15:00 Bournemouth v Sheffield United
15:00 Crystal Palace v Arsenal
15:00 Everton v Newcastle
15:00 Southampton v Chelsea
15:00 Watford v West Ham
17:30 Burnley v Liverpool
Sunday, August 11
13:30 Aston Villa v Leicester
16:00 Manchester United v Brighton
Monday, August 12
20:00 Wolves v Manchester City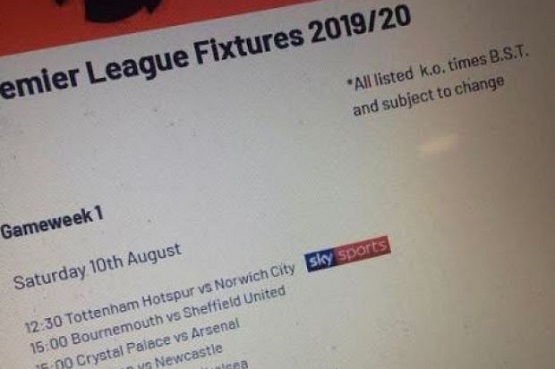 Now, these games are far from being official, they are from a leak according to the media but the chances are they are correct and we will know for certain tomorrow when the full fixture lists are published.
Last season we had Man City and Chelsea in our first two games and lost both and even though we went on a very decent run after that we still found it difficult to overcome that losing start to the season and it is imperative that we get off to a winning start.
Palace are definitely beatable but if we carry over our away form from the last two seasons then without a doubt, we are very beatable, that is certainly how Palace will see it.