Arsenal fans will have to wait and see whether or not the Gunners that went the furthest at the Euro 2016 tournament will be match fit and ready to play for Arsenal in the opening game of the Premier League season at home to Liverpool, especially Laurent Koscielny and Olivier Giroud who went all the way to the final.
Aaron Ramsey suggested that he might be a little short of full fitness after coming back for pre-season training on August 1st and if that is true of the Welshman it will probably be true for Mesut Ozil and the two Frenchman as well. There is some good news for Arsenal fans ahead of that crucial first game though, because the Evening Standard has reported a very positive update from our Chile international forward Alexis Sanchez.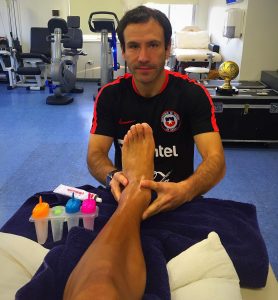 The striker was a big concern for us just over a week a go after posting a horrible picture of the badly bruised and heavily swollen ankle he picked up in the Copa America final. As you can see from the new picture, however, there is already great progress and with a month still to ge before the EPL campaign kicks off it looks like Alexis is one star that is going to be ready for action.
Bob.