Moving forward after the war 1946-1956!
After a tough decade during World War II that meant The Football League was suspended for seven years and after the resumption in 1946-47 the club were almost relegated after they finished 13th, their worst finish in 17 years which left them 16 points behind Champions Liverpool.
However, it was then that the manager George Allison, who had done so much to continue the work left by Herbert Chapman, decided to retire from football at the end of that season, and was replaced by his assistant Tom Whittaker, a long-time servant of the club who had been trainer under Chapman.
Whittaker became Secretary/Manager and was hugely respected and a great servant to the club, first as a player, then as the country's leading physio and finally as the man in charge.
He enjoyed immediate success at the helm though, winning the League title in the 1947–48 season, helping the team to regain the championship trophy they had lifted five times in the 1930s. The Gunners led from start to finish in the title race that season and even ended up seven points clear of Manchester United.
It was in 1949 that Arsenal had adopted the red crest which was a familiar sight to us fans, this gave Arsenal somewhat more of an identity too.
At this point Whittaker was the architect of Arsenal's triumph but on the pitch Ronnie Rooke took most of the plaudits. The prolific striker hit 33 goals to win the Golden Boot, including four in the final game of the season in a 8-0 demolishing of Grimsby at Highbury. Like goalkeeper George Swindin, Rooke played in every game that season. Reg Lewis also netted 14 times during the campaign that Joe Mercer was captain of the side.
Although things were not looking too great moving on, as the attacking line up of the front two of Reg Lewis and Ronnie Rooke were both over the age of 30.
Despite previous success, the ages of our players including Rooke and Mercer and brothers Denis and Leslie Compton were over 30 and so it seemed that long-term success was not possible. So, in response to a growing team in age, Whittaker had strived to bring in more younger players, and did so with the likes of Doug Lishman, Alex Forbes and Cliff Holton.
League success with these new players meant that the team was unable to sustain any real challenges but the new blood did not disappoint in the cups and the team won the FA Cup in the 1949–50 season with Reg Lewis whose place in the team had been in some doubt, repaid Whittaker's faith by taking Jimmy Logie's pass in his stride and beating Liverpool keeper Cyril Sidlow, he scored both goals in a 2–0 win over Liverpool in the final.
The 1951–52 season was a near moment for the club that saw us nearly win the Double of League and FA Cup, but we came out empty-handed. This was because of a series of injuries and postponements that led to the team having to play ten games in a month at the end of the season in which Arsenal lost their last two matches, including the title decider against eventual champions Manchester United at Old Trafford on the last day of the season. This 6-1 loss saw us finish third, equal on points with Tottenham.
A week later, we were back in action in the 1952 FA Cup final that we played against Newcastle United. Winning this trophy looked to be a long shot, as was clear to see with the team selection and how several recovering players were rushed back into the team.
During this game Walley Barnes was taken off injured with a twisted knee after 35 minutes and ten-man Arsenal suffered further injuries to Cliff Holton, Don Roper and Ray Daniel, so that by the end of the match there were only seven fully fit players on the pitch. And so, with a numerical advantage, Newcastle won 1–0 with a goal from George Robledo.
Arsenal bounced back in the league a year later though when they won their seventh League title in the 1952–53 season. This would turn out to be one of the closest title races of years gone by.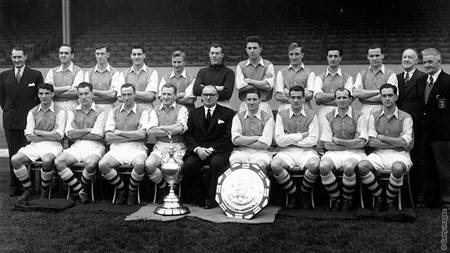 Back in those days it was now lower league opposition, that was main competition at times and Arsenal beat Preston North End to the title solely based on goal average, after finishing level on points. Although at one point the title looked to be Preston's after Arsenal lost 2-0 to them at Deepdale in the penultimate game of the season, but because Arsenal came from behind to beat Burnley 3–2 they took the title by a mere 0.099 of a goal difference.
That trophy was one we should have cherished highly though as that turned out to be Arsenal's last trophy for 17 years, as our previous fortunes began to fade.
This occurred more so after another death that shook the club. With the unexpected death of our manager Tom Whittaker in October 1956.
After losing Herbert Chapman many thought the club would decline at that time, but we didn't, but on this occasion the decline was apparent as the club deteriorated and found it hard to attract many stars they were looking to bring to the club.
Although they did manage to bring Welsh international goalkeeper Jack Kelsey to the club who was spotted by an ex-Arsenal player, Les Morris, whilst Kelsey was playing for his local side, Winch Wen, then in the Swansea & District League. Morris recommended Kelsey to Arsenal, who upon watching the goalkeeper for a few games, decided to sign him. Arsenal already had an established first-choice goalkeeper at this time, in George Swindin, so Kelsey could do nothing but wait for his chance to play for the first team.
After two years in the reserves, Kelsey made his first-team debut against Charlton Athletic on 24 February 1951 at Highbury, after Swindin had gotten an injury. However, Kelsey's first start was not a positive one as Arsenal lost 5–2, their heaviest defeat at home since November 1928. Kelsey made a total of four appearances that season, but was dropped once Swindin returned and did not feature in Arsenal's 1951–52 run to the FA Cup final.
After an entire season in the reserves, he returned to the side during the 1952–53 season, sharing goalkeeping duties with Swindin and Ted Platt and had made 29 appearances in a side that won the First Division title. He also played as Arsenal won the 1953 FA Charity Shield.
Kelsey finally managed to fully push Swindin out of the side, who himself made only two appearances in the 1953–54 seaspn. Kelsey then went on to be Arsenal's first-choice goalkeeper for the next eight seasons and only a broken arm sustained in an FA Cup tie against Sheffield United in 1959 put Kelsey out of the Arsenal side.
While up and coming players such as David Herd left for more successful clubs. Jack Crayston, who was assistant since 1947 to then manager Whittaker and a former player, followed Whittaker as manager of the club in the 1956-58 season after Whittaker died, but was unable to bring any players in and make a name for himself. At the end of it he was unable to replicate Whittaker's success and so he resigned in 1958.
And then a new manager was on the way…
To be continued…
Shenel Osman
@sh3n3l_
Learn more about your club – Decade by Decade CLICK HERE to visit our new Arsenal History section