It all seems just too good to be true, but if there is any truth in the old adage that 'There is no smoke without fire' then we can take it as a given that Petr Cech will be signing for Arsenal in the very near future. Apparently the rich Arabs at Paris St Germain were very keen to take the much-decorated Chelsea stopper, but they have told L'Equipe that they have given up the chase because Cech has already decided he moving to Arsenal!
Here is the original article in L'Equipe…….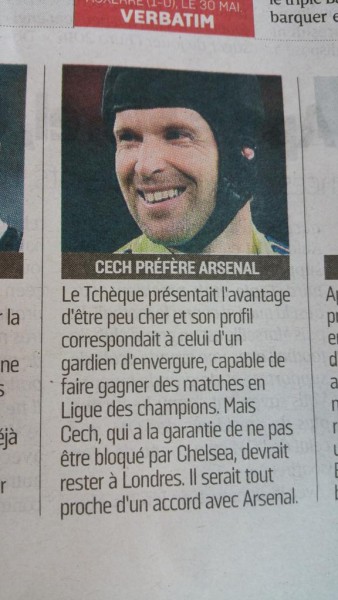 This (roughly) translates to "The Czech has the advantage of being inexpensive and having a profile that corresponds to a keeper of great stature, able to win matches in the Champions League . But Cech, who is guaranteed not to be blocked by Chelsea, wants to remain in London. He is approaching an agreement with Arsenal….
I know everything is pointing to Cech coming to Arsenal, but I am still finding it difficult to believe that Mourinho will let him leave for the tiny price of ten million Pounds, especially to such a great rival for the honours in England (and will be even tougher to beat with Cech between the sticks.
Could it really be happening?