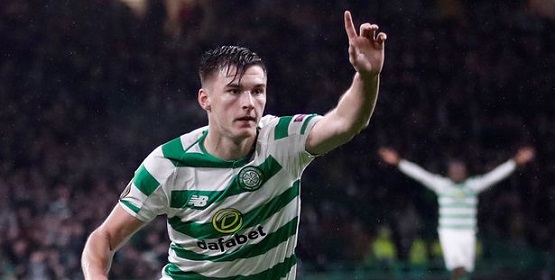 So it looks like this Arsenal rumour is going to run and run, and although it has been admitted by the Celtic boss Neil Lennon that Arsenal's bid for the left-back has unsettled the player, he has also made it very clear that the Hoops will not be held to ransom by the Gunners and will not accept anything less than their valuation of the 22 year-old.
Lennon told the BBC: "I have taken no notice of the headlines. I am well aware of where we are in terms of the situation.
"I spoke to Kieran in Austria and, to be honest, I haven't really seen much of him because he came back early for rehab, so has not been on the training ground as yet.
"It can be an unsettling period for any player and that is understandable, but until a club comes up with any sort of realistic valuation of the player, we don't have to do anything and we won't.
"Kieran is getting on with his rehabilitation and we are getting on with what we have to do here."
So they are obviously making it clear that Arsenal need to up their bid to have any chance of getting him. And to be honest, it can't have helped that the Gunners seem to be close to a 25million deal for a promising but unproven 19 year-old from the French League with only half a season under his belt, and then are going to loan him back!
Maybe Lennon has got a point?
Admin