I cannot blame the Arsenal pair for having this cheeky gig at West Brom and their manager Tony Pulis, especially as the Welsh coach has had plenty of run ins with Arsenal and Arsene Wenger over the years and has never been slow to criticise or have his own little digs.
Our Spanish full backs Nacho Monreal and Hector Bellerin will have spent a lot of time with Serge Gnabry as well, and they are clearly happy that their former Gunners team mate has just completed his dream move to the German Bundesliga giants Bayern Munich.
This caused the pair to like a tweet that reminded people via social media of the scathing comments made by Pulis about Gnabry when the youngster went to the Hawthorns on loan a few years ago, as reported by Metro.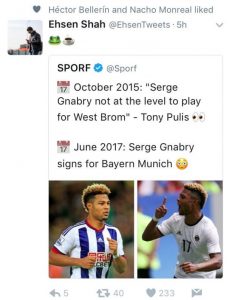 Pretty funny really, although I reckon that Arsene Wenger would rather his players stayed well away from this story because while it shows Pulis up it also reflects badly on our manager's own use of this clearly talented young German.
Wenger did sign Gnabry in the first place I suppose, as a 16-year old from Stuttgart, and there were some injury and fitness issues along the way, but could he have done more to keep Gnabry at Arsenal?
Bob