Well, well, well, Arsenal have reached their fourth semi-final in five years by beating West Ham 1-0 on Tuesday night. The only Premiership team that didn't make it through was the holders Man United, who were beaten by Bristol City last night to earn their semi against Man City, but Chelsea only managed to scrape through thanks to an injury time winner from their sub Alvaro Morata.
Like all the top teams Chelsea made many changes to their starting line-up and this was the team that played last night….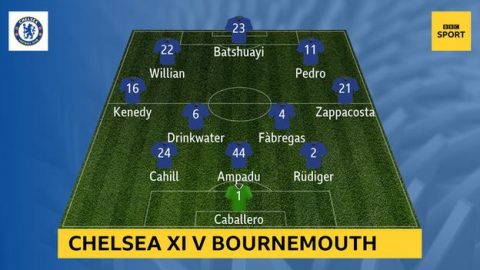 They may call it a second string side but there were still many top players in there, but there are also quite a few international's in Arsenal's reserve side.
This is the team that faced West Ham on Tuesday….
Arsenal
13 

Ospina

2 

Debuchy

21 

Chambers

16 

Holding

31 

Kolasinac

34 

Coquelin

35 

El Neny

69 

Willock

14 

Walcott

12  

Giroud
The semifinal will be played over two legs but with both sides vying for the Top Four it is certain they will carry on the rotation policy for the Cup.
Arsenal have beaten Chelsea in four of our last five meetings, so do the Gunners have a psychological edge over Antonio Conte's team? The Chelsea defender Garry Cahill thinks not. "No, not at all. I have had good and bad times against them.
"They've done very well against us lately, especially at Wembley but if I put myself in the Arsenal camp, I don't think it's ideal for them to play us over two legs.
"Do the recent results against them give us extra motivation? Yes. Obviously there was the FA Cup Final last season and they got one over us there.
"But if you look at what's happened over the last 10-15 matches between us, we have had good games too.
"We have played Arsenal many times and we know what to expect. The first leg is at home and that will be massively important. These are two big teams going at it.
"We know it will be a tough test. You expect to see big teams in the semi-finals of cup competitions, even though clubs change their sides up.
"You still expect the big teams to have enough to get through and that's what's happened with our semi-final."
Chelsea are also playing Arsenal in the League on January 3 which is just a week before the fitst semi-final, so it looks like we are set for an interesting January! Cahill thinks both games are going to be crucial. "Both results in each competition will be important for us," he continued. "But speaking about the League Cup, I feel it will be a good step for us to get to the final.
"We always talk about this every season and how you can potentially pick up a trophy in February. It's a massive incentive. It gives a good buzz and feel to everything when you do that.
"We have an opportunity to go through over two legs and we will try to take it. The League is a different situation, but just having a semi-final is healthy."
Which of those two reserve  teams do you think would come out on top?
Admin