Arsene Wenger is very rightly a legend at Arsenal after creating an all-time record by going a whole season undefeated with the Invincibles, but that was a very long time ago now, but this season he is creating more and more unwanted records, like being knocked out at the first hurdle of the FA Cup to a Championship side, and losing at home to a tiny Swedish side, and the latest run of four defeats in a row is about to get worse – as we travel to the San Siro on Thursday to face an AC Milan side that is in awesome form in Italy. ***These records are relating to Arsene Wenger's reign at Arsenal*** The last time Arsenal lost five in a row was in 1977…
Gennaro Gattuso's Milan side team are unbeaten since Christmas in a run of twelve games, and have won their last five without conceding a goal, the last victory being a 2-0 win away at third-placed Roma. Here is their last ten games in all competitions…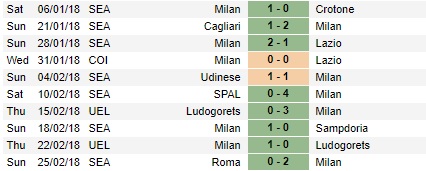 I know you don't need reminding you of Arsenal's recent record so I won't give you the bare results right now, although I will just say that in the 14 games that the Gunners have played since Xmas, they have only won four of them and the only one away from home was at Ostersunds.
It is certainly obvious to all that the chances of Arsenal winning in Italy, or even getting a draw, is extremely slim, and if Milan beat us by a large margin it will mean our last chance of a trophy will have disappeared into the horizon.
Will that be the final nail in Wenger's coffin?
Darren N