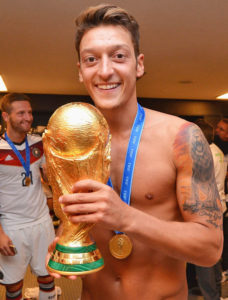 After the Euros a couple of years ago, Arsenal had a terrible start to the following season as Arsene Wenger gave all our players that had extensive runs in the competition were given extended holidays to recover from their exertions.
This summer looks to be more to our advantage as we surprisingly have very few players actually being picked for their national teams.
We already know that Danny Welbeck is the only Gunner in the England team, so Jack Wilshere (if he stays) will have a good rest. Aaron Ramsey's Wales side failed to qualify. Shkrodan Mustafi didn't make the cut for Germany so Mesut Ozil is our only player likely to get as far as the semi finals.
Alexandre Lacazette has been left out of the France squad, as has Hector Bellerin from Spain's. PE Aubameyang's Gabon side failed to qualify after being beaten soundly by Morocco but Elneny will be our only African player in Russia after helping Egypt to their first Finals in 22 years.
Alex Iwobi has been included in Nigeria's squad and Granit Xhaka will be there with Switzerland but other than Ozil with Germany none of our other players are likely to get past the last 8 teams, except possibly David Ospina if Colombia do well, so they should all be well-rested by the time the new season comes along.
All in all, it is all looking good for a fast start for Unai Emery' first season as Arsenal coach…
Admin