He may have had more than his fair share of criticism since signing for Arsenal from Real Madrid last summer, but there is no doubt that Arsene Wenger sees the Germany international play maker as absolutely vital to his plans for the Gunners.
And even though Ozil started this season a bit slowly after his exploits in helping Germany to win the World Cup in Brazil this summer, the star midfielder had been integral to our two best performances and results so far, against Aston Villa and Galatasaray.
So his absence since the away clash with Chelsea has perhaps been more noticeable and more keenly felt than before. It might not be a coincidence that both Arsenal and Germany have struggled to create and have lacked cohesion since Ozil injured his knee ligaments.
And it looks like the player is well aware of how important he is to the way the Gunners play. Because as well as posting this encouraging picture of himself working in the gym, as reported by the Daily Mail, he added a quick sentence celebrating the very lucky win over Anderlecht in Belgium and it sounds to me as if he is talking about the weight of expectation he feels to get back and help Arsenal out of our current struggles.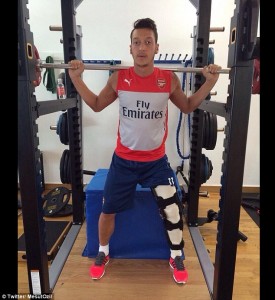 Ozil wrote, "I'm relieved about yesterday's victory but nevertheless these weights feel heavy on my shoulders…"
And after seeing the likes of Cazorla, Ramsey and the Ox toil again in the Premier League clash at Sunderland, who can blame the former Real Madrid star for feeling the weight of expectation?