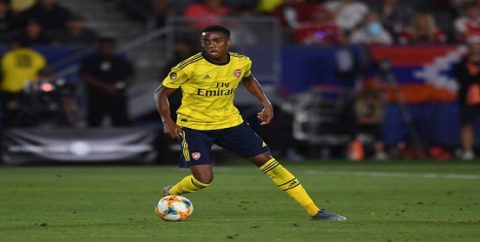 3 English Academy Graduates Start by Dan Smith
I know some gooners were disappointed not to see more of Arsenal's new faces at the weekend, but the significance of our starting line-up should not be underestimated. It included 4 Englishmen, 2 of whom were teenagers, 3 of which graduated from our youth team.
In the same week 'one of our own' fetched 35 million, those in charge of running our academy deserve credit. You have to go back to 1998 the last time two English teenagers represented us in the Premiership.
2002 is the last time more than 3 English graduates from our academy started in the League, Tony Adams, Martin Keown, Ashley Cole and Ray Parlour. The last time we started more than two English teenagers from our youth team, you have to go back before the Premiership era.
The reason I empathise this is because for years we have spoken about the lack of leadership in our squad. The arm band has been given to our best players as a way to entice them to stay, look how much the captaincy meant to Koscielny. You can't buy leadership; you can't coach a person to have that mentality It comes from within. It comes from being a lifelong fan, who's grown up at the club, who's been educated about the ethos and values of the club. It means you have individuals who see pulling on the red and white as the biggest honour, with no aspirations to move to a Real Madrid or Barcelona.
It's why all those years ago our PR Department wanted our British talent pictured together as they extended their contracts. It's why those same 5 were often the face of our social media platforms or asked to model merchandise
A gunner is more likely to relate to a player from the UK as they are more likely to view Arsenal as the holy grail. In terms of that famous photo no one lived up to the hype, injuries meaning they all suffered stagnation.
When Ramsey left in the summer for the first time in my life, I questioned our identity, who was our backbone, our heartbeat, who was 'Mr Arsenal?'
That's why Sunday could have been a massive moment in our history.