We normally have a couple of infographics before big games and this will be no exception, but usually we find that the Gunners stats are usually better than our opponents – even against Barcelona! But tomorrow's game against Spurs is not looking as positive as usual, either for our midfielders comparison from FootballFanager, or for the Combined XI figures.
Let's start with looking at how Ramsey/Coquelin compares to Alli/Dier….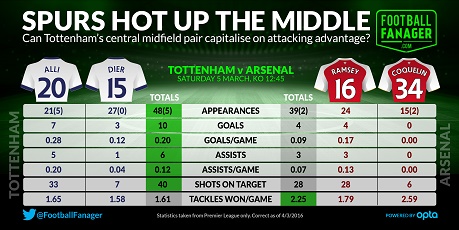 Not looking very positive there! Now on to the whole team……
Who makes it into the North-London combined side based on pure stats?

Our friends at Oulala.com have taken a look at all the player stats between Spurs and Arsenal before Saturday's game to build a combined XI, and the figures don't look too good for the Gunners!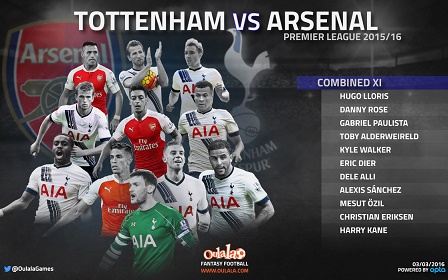 GK: Hugo Lloris beat David Ospina (no stats)
Clean Sheets – 9 to 0
Goals Conceded – 21 to 0
Saves – 64 to 0
Saves per Goal – 3 to 0
Catches (per game) – 1.7 to 0
Punches (per game) – 0.8 to 0
RB: Kyle Walker beats Hector Bellerin
Chances Created (per game) – 0.9 to 0.6
Clearances (per game) – 3.8 to 3.2
Interceptions (per game) – 2.7 to 1.9
Tackles Won (per game) – 2.1 to 1.3
Blocks (per game) – 0.2 to 0.2
Successful Take-ons (per game) – 0.4 to 1.5
CB: Gabriel Paulista beats Kevin Wimmer
Tackles Won (per game) 1.5 to 0
Tackle Success Rate – 54% to 0%
Clearances (per game) – 8 to 6.6
Interceptions (per game) 5.3 to 4.7
Blocks (per game) – 0.5 to 0.7
Aerial Duels Won (per game) – 2.5 to 0.8
CB: Toby Alderweireld beats Per Mertesacker
Tackles Won (per game) – 0.7 to 1.1
Tackle Success Rate – 43% to 34%
Clearances (per game) – 7.7 to 4.8
Interceptions (per game) – 1.8 to 1.3
Blocks (per game) – 0.8 to 0.4
Aerial Duels Won (per game) – 1.6 to 2.1
LB: Danny Rose beats Nacho Monreal
Clearances (per game) – 4.4 to 3.6
Interceptions (per game) – 1.3 to 2.8
Tackles Won (per game) – 2.3 to 1.6
Blocks (per game) – 0.4 to 0.3
Successful Take-Ons (per game) 0.8 to 0.5
Chances Created (per game) – 0.9 and 0.9
DM: Eric Dier beats Francis Coquelin
Chances created (per game) – 0.5 to 0.2
Clearances (per game) – 2.1 to 0.9
Interceptions (per game) – 2.4 to 2.7
Tackles Won (per game) – 1.6 to 2.6
Blocks (per game) – 0.6 to 0.4
Assists – 1 to 0
CM: Dele Alli beats Aaron Ramsey
Chances Created (per game) – 1.4 to 1.3
Pass Completion – 76% to 87%
Successful Passes (per game) – 25 to 59
Key Passes (per game) – 1.2 and 1.2
Assists – 5 to 3
Goals – 7 to 4
LW: Alex Sanchez beats Erik Lamela
Chances Created (per game) – 2 to 1.9
Key passes (per game) – 1.8 and 1.8
Pass Completion – 78% to 81%
Successful Take-Ons (per game) – 3.1 to 1.2
Assists – 2 to 4
Goals – 6 to 3
AM: Mesut Ozil beats Son Heung-min
Chances Created (per game) – 4.4 to 0.9
Key Passes (per game) – 3.7 to 0.8
Pass Completion Rate – 87% to 79%
Successful Passes (per game) – 52 to 13
Assists – 18 to 1
Goals – 5 to 2
RW: Christian Eriksen beats Theo Walcott
Chances Created (per game) – 3.3 to 0.8
Key Passes (per game) – 3 to 0.7
Pass Completion – 81% to 79%
Successful Take-Ons (per game) – 1.1 to 1
Assists – 8 to 2
Goals – 5 to 4
CF: Harry Kane beats Olivier Giroud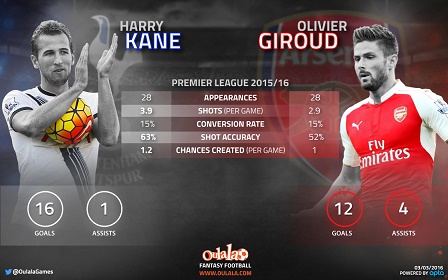 Chances Created (per game) – 1.2 to 1
Shots (per game) – 3.9 to 2.9
Shot Accuracy – 63% to 52%
Conversion Rate – 15 % and 15%
Goals – 16 to 12
Assists – 1 to 4