What do Arsenal need to win the Premier League? by CR
Only a fool would claim that Arsenal are not involved in a genuine title fight this season. It's only January but we actually look as though we can put all of our demons behind us and lift the Premier League title in May. There are still plenty of points to be won but the Gunners are in fine form. Here, we take a look at what Arsene Wenger's men must do in the coming weeks to give themselves the best chance of success this season.
The likes of Aaron Ramsey, Olivier Giroud and Mesut Ozil are finally firing on all cylinders and the Gunners look like real title contenders. All in all, this is a great time to be an Arsenal fan. However, it isn't perfect. The Gunners could still do with one or two signings in January just to make sure we don't tail off. Defensive midfield is a prime example. Without Francis Coquelin, we never look comfortable and our defence can find themselves exposed – as they were in December's 4-0 defeat to Southampton.
Being realistic, a defensive midfielder and another top striker are the only real places that we need to improve. We recently signed Mohamed Elneny from FC Basel but the 23-year-old may be regarded as one for the future. While Wenger may be forced into selecting him immediately, Arsenal supporters will be more excited at his potential. Indeed, fans will be racing to get match tickets at ticketgum and other outlets just to see the Egypt international in action. At a fee of just £7.4 million, Elneny could be one of the bargains of the season, especially if he helps us to win the title.
However, we are still short of a top striker. Yes, Giroud has been in fine form so far this campaign but is he really the man to spearhead a title challenge? Many will disagree on this but it's hard to justify the Frenchman's standing as our main attacker. With Pierre-Emerick Aubameyang potentially available for the right price, despite the player's doubts, Wenger and the board should be breaking the bank for the Borussia Dortmund striker. Other than obvious candidates such as Luis Suarez and Robert Lewandowski, he is the hottest forward in Europe right now and would slot in perfectly along with Ozil and Alexis Sanchez in the attack.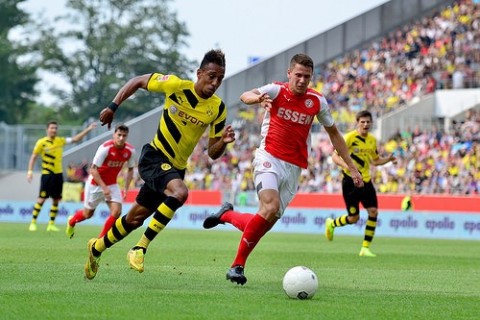 "Pierre-Emerick Aubameyang (BVB)" (CC BY 2.0) by dirkvorderstrasse
Obviously with the likes of Danny Welbeck and Sanchez set to return from injury in the not-so-distant future, Wenger may opt to stick with his guns. After all, that's worked so far this season. We are in prime position for our first title since the Invincibles of 2004 and Arsenal fans all over the country will be incredibly excited. If we invest in January, this will only help enhance competition for places across the squad. If not, we must pray that our ineptitude in the transfer window doesn't cost us the ultimate prize in English football.