Arsenal's Formation in 4-4-2 Diamond– The Liverpool and England Way By Supertuur
In the 2013/14 season two teams really stood out with their goal scoring capabilities, Liverpool with Suarez and Sturridge and City with Augero, Negredo, Dzeko and Jovetic. Besides the quality of their strikers what was the other reason they scored so much? They played 4-4-2, although in different variations. Today I will focus on the formation Liverpool and recently England play which is the 4-4-2 diamond or also known as 4-1-2-1-2.
How would an Arsenal team look in a 4-4-2 diamond formation?
The defence would look the same as it is now with positions well known to most of our fans.
LB = Gibbs/Monreal
CD = Koscielny, Mertesacker, Chambers
RB = Debuchy/ Bellerin
There will be more pressure on defenders with 4-4-2 than with the current 4-2-3-1 system that Arsenal currently plays.
The bottom of the Diamond (occupied by Gerrard at Liverpool) is a crucial position where you need the capabilities to defend, make decisive passes and do the occasional goal shot from outside the box or just at the edge of the box. Ramsey could do this role but will have to hold back on the attacking part thereby reducing his goal tally. Arteta would look good as well or even better as his passing is superb. Flamini would be ok on the defence side but I think he lacks the decisive passing that is needed for the fast counter attack. We have seen Wilshere take on the role for England and he did not do too bad.
Left side of the diamond I could see Oxlade-Chamberlain, Ramsey and Wilshere. On the right side of the diamond I can see Walcott, Rosicky, Gnabry, Oxlade Chamberlain and even Sanchez as he does not mind doing dirty defending work.
The top of the diamond is where Sterling plays at Liverpool; this is where I see Ozil, Wilshere or Carzola.Carzola will offer the most goal threat, Ozil has the best passing and Wilshere can be the middle ground of these 2.
As for the centre forward positions I see the left centre forward position taken by Welbeck, Podolski and Giroud and the right centre forward by Sanchez, Campbell, Walcott and Sanogo.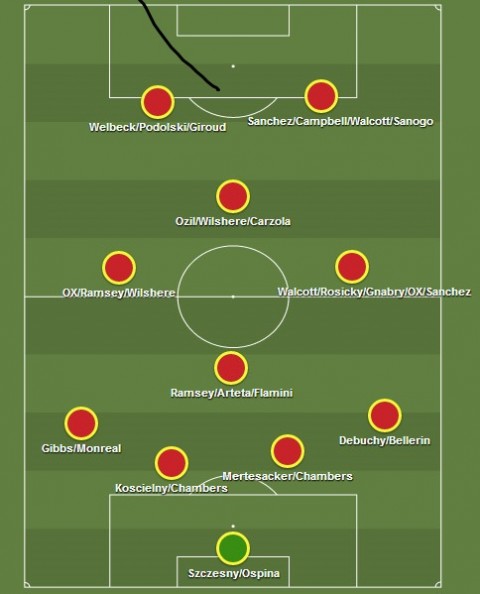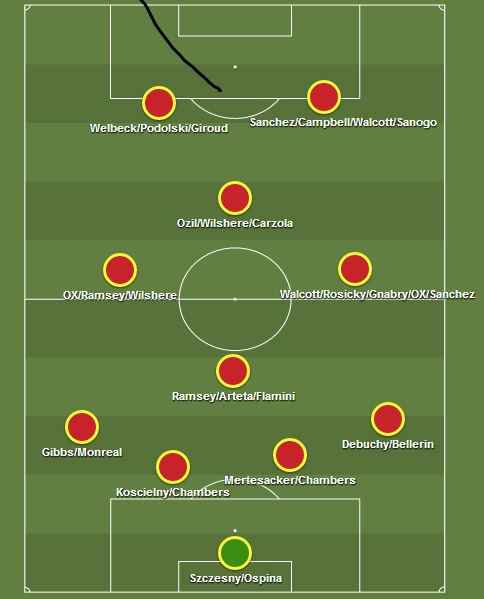 Positives about this Formation
We will use our strikers and wingers much more. We can find pairs of strikers that work well. City used Negredo/Aguero at the start of the season, Negredo/Dzeko at the middle and Dzeko/Aguero at the end of the season. This season they start with Jovetic and Aguero . We may have a use for Podolski which under the 4-2-3-1 system is not working well. We will not be over reliant on a strong holding CF like Giroud whom we need in a 4-2-3-1 formation. We have 7 strikers for 2 positions and we can rotate to see which combinations work best. At the middle of the season we can see which ones to sell or loan out.
Arsenal will score a lot of goals and can make more use of the counter attack. Ozil will have two centre forwards he can put the balls through. We can take out one centre forward and drop back to 4-2-3-1 with ease and play more on possession and defend the score line, when necessary.
Negatives about this Formation
Defensive duties need to be higher up the midfield. Arsenal will concede more goals but you have more chance to outscore your opponent. My biggest worry is that Ramsey or Arteta are not up to the level that Steven Gerrard is with his position at Liverpool. Distribution, defending and scoring from outside the penalty box are his strengths. Ramsey will not be used to his full strength as he is now in our current 4-2-3-1 system.
The width will come from the full backs only. Which is not so bad as especially on the left side we still lack true wingers.
Could this be the formation where Arsenal get goals and Ozil finally shines in his role? With Welbeck apparently not as good at hold up and play as Giroud is, is this the formation we should go for? Love to hear your opinions.