Arsenal's Strategy for Using Pace and Wingers Under the Current 4-2-3-1 System By Supertuur
Now that the transfer window is shut and Arsenal has signed a new centre forward in Danny Welbeck it is time to look at what to do with our attack. After looking at the first few games of this season I noticed 2 things. We like to use Giroud as our holdup and play centre forward. This will bring the rest of our midfield in and then we score. Even with Giroud injured, Arsenal is still programed to play this style. Hence why we bought Welbeck to continue with this style, as Sanogo is still too raw to take on this role.
Secondly we like to play through the middle and play the ball across our midfielders, which takes the pace out of an attack and allows the opposition to organise themselves. If we continue to play 4-2-3-1 we will not score 100 goals in a season. For that you need a lethal striker like Diego Costa as Chelsea have in their 4-2-3-1 formation.
One of the problems is our left wing where we do not use a winger. We deploy CAMs like Carzola and Ozil to play on the left and sometimes we use Podolski. Both Ozil and Carzola like to drift towards the middle, thereby crowding the middle and making it easier to defend for the opposition.
Arsene and his love for the CAMs
My guess is Wenger loves his CAMs so much he wants to play them all, Ozil, Carzola and Wilshere. This takes the pace out of our game and leads to a lot of passing in front of the goal. Wenger was right in the sense we did not need Cesc Fabregas. We should only play one CAM in this system, we have about 4 if we include Rosicky.
Arsenal needs to start using speedy wingers on the left. We should use Oxlade Chamberlain as he is a left footer. Sanchez can also be deployed on the left when Wallcott makes his full return. Gnabry could be the deputy for Walcott in the longer run on the right. Campbell should be deployed left or right.
With Walcott, Sanchez, Welbeck and Oxlade Chamberlain we have a very pacey attack. If we continue to play this system I can see Podolski being sold and maybe one of the CAMs, Carzola most likely.
This is what it would look like.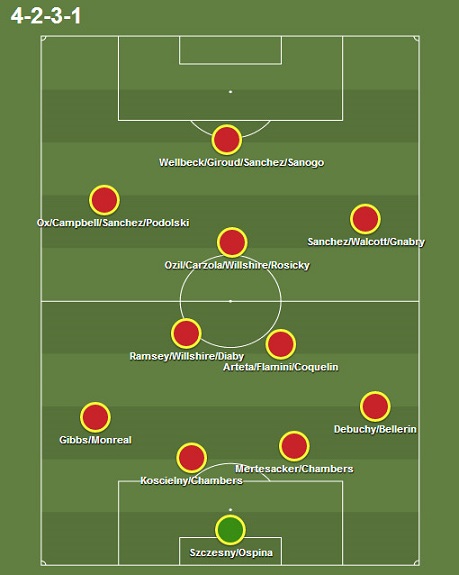 I will discuss other alternative strategies in further articles. I would love to hear your input.