We all know that UEFA are a farce and this has been proved once again with the news that Arsenal are to be charged because Galatasary fans smuggled in numerous flares which they threw onto the pitch during the game.
Flares are very common in Turkey and you will see hundreds of them lit up during any big games in the SuperLiga, but if UEFA expected Arsenal to thoroughly search every single Galatasary fan as they entered the ground then they are asking the impossible. Can you imagine the delays that would cause and may even actually cause more problems as the volatile Turkish fans could become very frustrated.
And imagine if they DID find every flare that was being smuggled in? Two Galatasary fans were arrested, but what if they tried to arrest 100 of them? Where would they put them? How will they be dealt with while the other fans were being searched?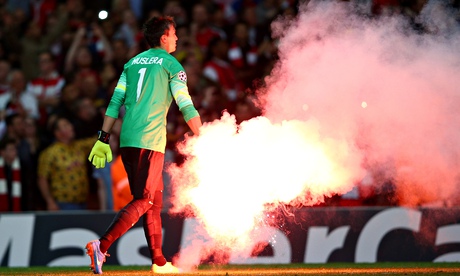 Come on UEFA, this is a ridiculous ruling and obviously the club whose fans caused the trouble should be the ones getting punished. NOT the team that hosts the game!
This ruling needs changing right now, and considering that nearly EVERY game in Turkey has these offences maybe UEFA should try and get the clubs to stamp it out on their own terraces, then fans may not be so inclined to take them to away games as well….