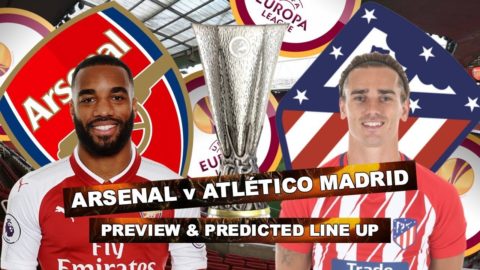 Everybody has been saying that Atletico Madrid should be favourites to win this competition ever since they dropped out of the Champions League but I don't think that they are going to be that hard to beat, as a long hard season is taking it's toll on Diego Simeone's side. Let's look at their current form…



As you can see they played those six games over the course of just 17 days, and simply don't have enough players to rotate so fatigue is affecting all areas. They have lost 3 of their last 4 away games as well so confidence could be low tonight (like Arsenal's away form!). They still sit second in La Liga but Real Madrid are just 4 points behind and have a game in hand, so they can't afford to rest any of their fit players.
In contrast Arsenal have hit a rich vein of form as the end of the season approaches. Let's look at our last six games…



We may be rubbish away from home, like Atletico, but our home form has been top notch, scoring at least three in each of our last six matches at the Emirates. We need to do that one more time if we are going to go to Madrid with every chance of going to the Final.
Diego Simeone is under no illusions that the Gunners will be tough to get past. "We're going to face a tough team. Arsenal have an important history in Europe," he said. "Both clubs want to play the final."
"We're going to play in a marvelous stadium," he continued. "Their fans are going to be 100 percent dedicated to the team."
And the importance of scoring lots tonight cannot be undervalued. If Atletico have been poor away recently, you cannot say that about their home form as they have not even conceded one goal in their last ELEVEN games at the Estadio Wanda Metropolitano. One away goal from any side could settle the tie and Arsene Wenger knows that. "The rules in Europe make the weight of an away goal very strong." the Boss said. "That's why when you play the first game at home, you're a little bit in a difficult psychological situation because you know that you have to score but as well that every goal you concede can be a huge handicap."
So it will be interesting tonight. Will Atletico come over and defend like hell and look for a breakaway, and will Arsenal do the same? Or will both sides just go for it? It's a fine line….
Anyway, so to our team news. We have two definite absences as Wenger told us: "Mkhitaryan is not back in the squad and Mohamed Elneny is out for the rest of the season." and Aubameyang can't play, so this is the team I'm predicting Wenger will put out…
Ospina
Bellerin, Mustafi, Koscielny, Monreal
Xhaka, Wilshere, Ramsey
Ozil, Welbeck
Lacazette
Arsenal need to score early to give us a chance to have a more open game, and with Lacazette and Welbeck back in top form I see no reason why we can't stamp our authority on the match. The only problem is that with our dodgy defence I just can't see us not conceding either, so I am going to go for a 3-1 win but I still wouldn't be sure if that would be enough to take to Spain. 3-0 would be better…
Admin