Mesut Ozil v David Silva
In the run up to Christmas, title contenders Arsenal and Manchester City face each other at the Emirates Stadium for the first time this season. In such a tightly fixed contest, the fine form of playmakers Mesut Ozil and David Silva will be key to the game.
Fantasy Football game www.oulala.com have taken a look at the pair as they prepare to go head-to-head on Monday night.
Manchester City's Silva has arguably been the Premier League's best number 10 for a number of seasons now. Despite being plagued with injury in this campaign the Spaniard has still managed to rack up an impressive six assists in eight games.
However, Ozil has also been in exceptional form this season. With an incredible 13 assists in 15 games, Oulala's stats show that Ozil is one assist away from equalising the combined total of his previous two seasons.
With less game time, Silva has a better average of minutes per assist with 93 compared to Ozil's 99 minutes in between assists. However, Ozil has created twice as many chances per game with 4.3 than Silva with 2.3 per game. Naturally the German international also has more key passes than Silva with 3.4 and 1.6 respectively.
Ozil also has a slightly higher average of successful take-ons per game (1.3 to 1), as well as a higher rate of passes per game (56 to 50).
Oulala's stats indicate that the pair are level in terms of pass completion with an impressive 88 percent.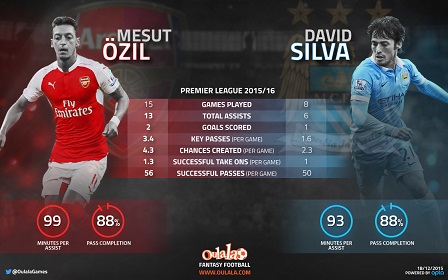 City's last Premier League win against the Gunners came in a 6-3 drubbing against at the Etihad Stadium back in December 2013. It was also the first time the duo in question had met competitively in the league.
Along with four other City players Silva got on the score-sheet that day. Ozil managed to get an assist for his Arsenal side but that would have come as little consolation to him. He later apologised for not thanking the Arsenal away fans at the end of the match for their support. Ozil's performances later that year and beyond quickly made amends for that initial mistake, as he has grown into becoming one of Arsenal's key figures in recent years.
Arsenal will no doubt be hoping his exceptional form continues as they look to see out title rivals Manchester City. On the other hand City will be hoping Silva suffers no more injury set-backs in the run up to this potentially crucial game.
Ramsey v Yaya Toure
In our second comparison, you can see that these key statistics supplied by the leading daily fantasy sport site Football Fanager show, key midfielders Aaron Ramsey and Yaya Toure couldn't be more closely matched.
Welsh wizard Ramsey marginally leads midfield maestro Toure in the goal stakes, and the Ivorian beats the Welshman on assists. But take a closer look at their other key statistics and they're almost identical. Who'll come out on top in Monday's crunch fixture?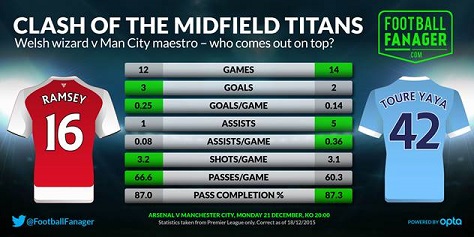 Arsenal fans obviously think that Ozil and Ramsey are brilliant in their positions, but as we can see they are closely matched stats-wise with Silva and Toure. Hopefully home advantage will give the Gunners stars the edge in this game, but it will certainly not be easy for the Gunners….