So the big day has finally arrived with Unai Emery taking charge of his first official Arsenal match against the awesome Champions Man City. Arsenal have gone through the pre-season unbeaten while learning Emery's new pressing tactics, but Man City brushed aside Chelsea in the Community Shield last week despite having many of their players still unfit after their World Cup exertions.
Watch Arsenal v Manchester City and more Premier League football this season with Sky Sports. Click here to upgrade to all Sky Sports channels for £20 per month.
But the serious stuff starts now, and Emery is feeling a little confident that his team is well-prepared and ready to go. "I am looking every day and the players are smiling in training with a big collective spirit." he said. "They are working and finishing tired but with a smile also on their face.
"For me, that is the best message I can give the supporters. It's for that [reason that] my message for Sunday is [one of] optimism."
Arsenal will certainly have to improve though, as in the last two seasons we have taken only one point off Pep Guardiola's men and were destroyed in the League Cup Final. Our only victory was in the FA Cup semi-final after extra time the year before last.
City have added to their attacking force by bringing in Mahrez, and Guardiola has revealed that both Kevin De Bruyne and Raheem Sterling are both fit to play despite missing the Community Shield win. Sane, Aguero, B. Silva and Fernandhino will contribute to a very attacking line-up and our new defense will have to be at their best. But what will Emery's first line-up look like?
It was expected that Maitland-Niles would cover for left-back after injuries to both Kolasinac and Monreal, but Emery has hinted that may go to Danny Welbeck! He said: "Danny Welbeck is one of the players who has a multi-position possibility," the manager said ahead of City's visit.
"Right-winger, left-winger, striker, and also yesterday he worked with us at left-back – his performance was good! I like this spirit. To help positions across the team with positive spirit."
So I think that Arsenal will have a revolutionary line-up with safety in mind, but also introducing many of his new arrivals and featuring all of his vice-captains. I have already given my reasons for believing Cech will still be Number One for a while and I can see Sokratis, Lichtsteiner and Torreira all being thrown in at the deep end, while he will allow Ozil, Aubameyang and Lacazette to look for the quick breakaway. No-one can be quite sure what Emery has in mind, but here is my Line-up prediction…
Cech
Lichtsteiner – Sokratis – Mustafi – Welbeck
Xhaka – Torreira – Ramsey
Ozil – Lacazette – Aubameyang
That should cause Man City some problems if they all gel very quickly. Who will be captain? I'm gonna stick my neck out and say Cech, although Ozil and Ramsey are contenders. Will we have a different captain every week? I wonder….
Anyway, onto the match score prediction. I'm going to think we will put up a big fight and I'm hoping the feelgood factor from Emery plus our longer training sessions with the new boss will give us the edge in a high-tempo contest.
3-2 to the Arsenal…..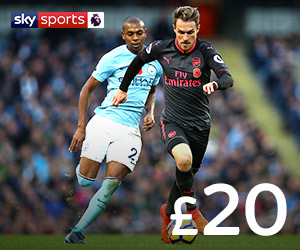 Watch Arsenal v Manchester City and more Premier League football this season with Sky Sports. Click here to upgrade to all Sky Sports channels for £20 per month.
Admin