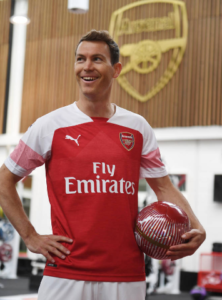 Unai Emery's first incoming transfer when he became Arsenal manager was the announcement of the arrival of Stephan Lichtsteiner on a free transfer. The 34 year-old had just arrived at the World Cup as captain of Switzerland and he has come with the amazing record of 7 Serie A titles and 5 Copa Italias in his career, not to mention a League title in Switzerland with Grasshopper Zurich as well.
There is no doubt he is extremely experienced and with ove 100 caps for Switzerland he is very highly regarded as a leader of men. Even Hector Bellerin is pleased to see Lichtsteiner arrive at the Emirates despite him being a direct rival for his postion in the first team.
Hector said: "I think it's a great addition to the squad,"
"He's a player with loads of top-level experience and he can only help us.
"I can't wait to learn from him. I think he's a top defender, really solid and has a very good attacking sense as well.
"As a young player, it's good to have someone like that I can learn from."
We also saw from watching him in the World Cup that Lichtsteiner has amazing power and fitness despite his age, while conversely many Arsenal fans would say that Bellerin has regressed with little competition for his place in the team, amid criticisms that he worries more about how he looks than how good he plays.
I have a feeling that Emery is set to make Lichsteiner his first choice for right-back and I even think he will be one of his "five captains".
What do you think. Who will Emery start with against Man City?
Admin