JustArsenal's Mr Admin was generously invited by Huawei to this game at the Emirates, so we were wined and dined before the action started. But we were given excellent seats to watch the action from the start.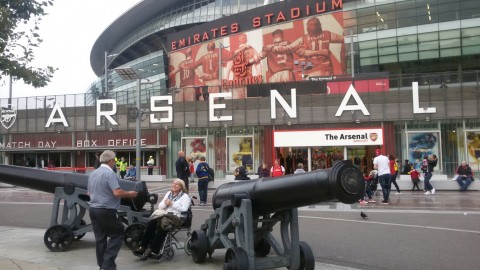 Taken with my new Huawei Arsenal Smartphone before the game!
It was always going to be a tough night for Arsenal against a strong Saints line-up that was not much changed. Arsene Wenger made plenty, as expected, but it still looked a pretty strong midfield and attack, with the likes of Wilshere, Rosicky, Podolski and Alexis in there.
And it was all going so well after the Chilean international smashed a pearl of a free kick past Forster in the 14th minute. Southampton were very good though and gave the makeshift defence a lot to do all game. The way they got back into it was a shame though, a daft and needless tackle from Rosicky just inside the area.
And the rest of a tough, end-to-end and fairly even game was decided by a wonder strike from Clyne about five minutes before halftime. I wondered if there was a keeper error from David Ospina in there but the pace and swerve on the ball was ridiculous so I will give the dubutant the benefit of the doubt. He was impressive and there were some good performances from the fringe players.
The problem was that we couldn't get that second goal despite having a lot of the ball and creating opportunities. They gave us a really tough night and unfortunately the unfamiliar Arsenal team were not quite up to it. What did you guys think?