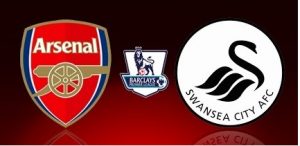 With the match just a few hours away we are bringing you this week's View From the Enemy, which comes direct from the official Swansea website. The Swans are well aware that they are on a very poor run of form at home, but have had some excellent results on the road this season, and also have a great record at the Emirates. So here are their thoughts on the visit to Arsenal….
​​​​​​​Swansea City look to bounce back from home losses against Leicester City and Manchester United when they go to Arsenal this weekend.
The Swans can expect a tough test against Arsene Wenger's team, but they have had a number of successes in the past at the Emirates Stadium.
Here are all the key talking points heading into the game.
Spiking the Gunners
Of all the clubs to visit Arsenal in the Premier League since their move to the Emirates, only Chelsea have won more games (four) there than the Swans (three).
The Swans' record in the red corner of North London is remarkable given the relative stature of the two clubs – plus the fact that they have only been in the top flight for six years.
Michu inspired the first win at Arsenal back in 2012, then came a late winner from Bafetimbi Gomis in 2015 before Wayne Routledge and Ashley Williams were on target in a 2016 triumph.
Another success would be cherished this weekend – but Arsenal will have other ideas.
They have not lost at home as yet this season.
Another century for Arsene
The Swans' visit to Arsenal will be the 800th Premier League game of Arsene Wenger's reign.
Only Sir Alex Ferguson (810) has taken charge of more Premier League fixtures.
The Swans have had seven managers – including Alan Curtis – since they were promoted to the top division six years ago.
Between them, they have taken charge of just 321 Premier League matches.
For Clement, this will be No. 29.
London's calling – again
The English capital has been like a second home for the Swans in the early stages of 2017-18.
Clement's side have already been to Crystal Palace, Tottenham and West Ham – and they have come back with a healthy four points.
Their two travelling Carabao Cup triumphs – at Milton Keynes and Reading – were not far from London either.
Let's hope for another positive trip down the M4 this weekend.
Hit the road, Jacks
Those losses against Leicester and Manchester United mean the Swans' home record so far this season does not make pretty reading.
In six Liberty fixtures, there has been just one home win.
So perhaps Clement's players will relish heading off on their travels, for they have done well on the road so far this season.
In six away fixtures in league and cup, the one defeat to date came at West Ham – and that was courtesy of a last-minute winner.
The Swans have been tough to break down when away from the Liberty this season, and resilience will be required once more to stop Mesut Ozil, Alexis Sanchez et al.
Injury issues
Swans boss Clement has fitness troubles to deal with as he picks his side to take on Arsenal.
Renato Sanches (thigh) and Wilfried Bony (hamstring) are out, while Martin Olsson is unlikely to make it because of a hamstring problem picked up in midweek.
All three would be involved, and possibly starting, were they fit.
Arsenal are set to be without Shkodran Mustafi, David Ospina, Danny Welbeck and Santi Cazorla, but Wenger has plenty of options.
PREVIEW
Paul Clement's men know they will face a stern examination against a Gunners side who have been in fine form at home this season.
But the Swans have a fine record at the Emirates, where they have won three times and drawn once in six previous Premier League visits.
Another reason for optimism is the Swans' away record so far this season.
Clement's side have lost only one of their four Premier League games on the road this season, while there were also Carabao Cup victories at MK Dons and Reading.
The Swans have had some good results when visiting some of the big clubs since Clement took charge.
They memorably won at Liverpool and drew at Old Trafford last season, while there was also a cruel last-gasp loss at Manchester City when the visitors deserved better.
And earlier this term, Clement's side went to Tottenham Hotspur and claimed a creditable draw.
However, Arsenal have been very impressive on their own patch so far in 2017-18.
They have won all four of their home league games, against Leicester, Bournemouth, West Brom and Brighton, as well cup fixtures against Cologne, Doncaster and Norwich.
What they said
Arsenal manager Arsene Wenger: "At home the speed of our passing will be absolutely important to create chances. Ozil, Alexis and Lacazette were very efficient at Everton, and they have to be efficient on Saturday."
Swans boss Paul Clement: "Arsenal had a really good victory at Everton last weekend and we know we will not have as much ball as we would like. We'll have to defend really well collectively and then look to convert a couple of chances."
Last six meetings
14.1.17 Swans 0 Arsenal 4
15.10.16 Arsenal 3 Swans 2
2.3.16 Arsenal 1 Swans 2
31.10.15 Swans 0 Arsenal 3
11.5.15 Arsenal 0 Swans 1
9.11.14 Swans 2 Arsenal 1
So that's it folks. Let's get ready for the game….