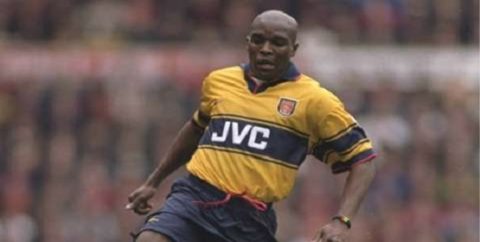 To celebrate the start of the African Cup Of Nations I will be doing a review of the 16 Africans who have represented Arsenal in the Premiership. It's a continent which has played a huge part in our history, with three members of our Invincibles from that part of the world.
I also encourage gooners to help me over the next few weeks identify any promising youngsters from the tournament who you would add to our shortlist.
This will be in order from when they arrived…
In 1997, Arsene Wenger's first African signing for Arsenal was ……
Christopher Wreh – 1997-2000 played 43 scored 5.
Wreh is the cousin of George Weah, a former European Footballer of the year (and now the President of Liberia), so it was always a big ask to live up to his record. The striker is unique in the few goals he scored for us were all mostly crucial to our history. He scored the only goals against Wimbledon, Bolton and Wolves, part of our winning sequence in securing the Double in 1998. The fact Arsene Wenger would start him ahead of Ian Wright in the FA Cup Final highlights there was faith in the player (not to mention he signed him twice).
Our strike force meant there was little concern when he struggled to develop. Perhaps it was the importance of his goals that little was mentioned how his career declined. Rumours have ranged from poor weight, poor time keeping, even alcoholism, as reasons he never settled anywhere else. For example, in 18 months at St Mirren he played 57 minutes, Northampton tore up his contract after just 7 weeks, while clubs who did sign him found him not fit enough to feature. His fall from grace in Liberia came when he publicly criticised national hero Weah for making the country a one-man team. He has a better standing with the Lone Stars today, coaching the underage groups from 2014.
There's a lot of clubs and coaches this man let down. Lots of owners with limited finances who trusted him only for him to not show up or when he did, show up double his weight as a teenager. Yet in North London he will always be fondly remembered for his contribution. He didn't do a lot but what he did they proved to be very important. Therefore, there are individuals who scored far more goals then him who get more harshly criticised…
Dan Smith