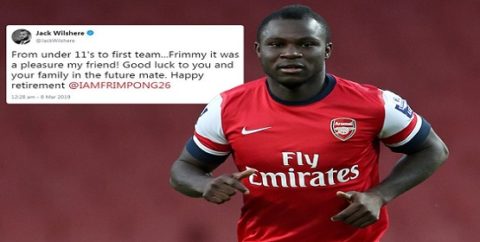 The next player we talk about is Arsenal through and through, starting at the club as a 9-year-old alongside a certain Jack Wilshire. Out of the two best friends, one would find it a lot simpler to break into the first team. What they both have in common though is bad luck which has left both asking 'what if?'
Frimpong Played 16 goals 0
Frimpong had impressed coaches with his battling qualities during pre -season. Due to the loss of Fagregas and Nasri the youngster was fast tracked into the first team. It took no wins in our first 3 and an 8-2 humiliation at Old Trafford to convince the board to spend even half the money they had just earned.
At that point Frimpong had been sent off against Liverpool, undermining how well he had played for an hour. Gooners appreciated one of their own working so hard, but it confirmed to Arsene Wenger the perception of the midfielder being too ill disciplined and immature for that level at his age. As was club policy, youngsters always had the League Cup to impress but instead Frimpong would show unwanted behaviour.
He clashed with Nasri in the tunnel, a feud which had begun in the Frenchman's last game for us. Instead of acting like a leader to his inexperienced teammate, Nasri blamed Frimpong for a loss, despite knowing he was days away from joining Man City.
He also sent an ill-judged tweet when dropped for a tie with Chelsea, implying he would have been selected if he were white.
A loan to Wolves was part of his development. After only 5 games though he ruptured his ACL. It's fair to argue he never was the same after that with spells at Charlton, Fulham and Barnsley all short. Before a similar injury would force him to retire, he spoke about the physical toll his body went through after match days.
His time in Russia was marred by racial abuse leading to his contract being ripped up while even the League in Sweden and Cyprus were too physical. Hanging up his boots at just 27 he's moved his family to Ghana where he feels he can live a more laidback life. Clearly there are aspects of the media that the man doesn't agree with in England. With the rise of social media, being Jack Wilshire's mate meant people were commenting on a player before he even kicked a ball.
The internet was able to comment on his music, fashion, life-style while he was never shy to put out the occasional tweet. Mr Wenger would have been aware of all of this but mostly it was a horrible injury which caused the reason why his potential wasn't realised.
Dan Smith