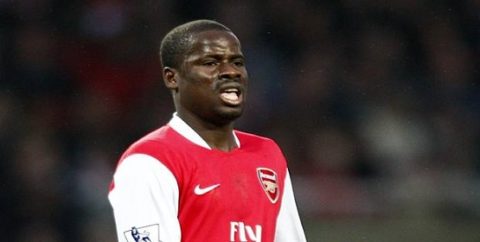 It's sad to analyse the next individual given that it covers a happier time in his life. Eboue became a cult hero at the Emirates for coming across as someone who loved every minute at the club. I remember on match days where commonly he'd be the last to leave the pitch, having done a lap of honour. Arsenal pride themselves on being a family club and have helped one of their own far beyond football. If nothing else, they supported their ex-employee as he spread the word of his own mental health.
Emmanuel Eboue – 214 games 10 goals
Was the highlight of our working relationship with Beveren, the only player we would sign permanently from our feeder club. In his first year he only featured in cup ties but had the trademarks of a full back Arsene Wenger loved, someone who bombs forward while aggressive in the tackle. The turning point came when Lauren suffered a serious knee injury. Eboue filled in well enough for his manager not to sign a replacement while informing Lauren he could leave if he wanted too. Originally Eboue was part of an injury hit back 4 who went on to set a record for how long they went without conceding a goal on our route to the Champions League Final.
The right back would become known for his blistering pace, followed by a lack of final ball to the point it became affectionate. There was a moment in 2008 when a section of our fans let themselves down, taking out their frustrations with the team on Eboue, forcing our manager to sub the sub against Wigan.
He was very much a confidence player who needed an arm round the shoulder. While his delivery could be erratic and he would have lapses of concentration you could never accuse him of not giving 100 percent effort.
He was told by Arsene Wenger to take the move to Galatasaray where he would win the first silverware of his career. It was also where his personal problems arose. As recently as 2017 he spoke about being homeless due to bad investments and a costly divorce. Both of his ex-employers have financially and mentally supported Eboue without seeking any PR gain. Eboue has recently spoken about his mental illness. If that brings awareness to even one person, that's his biggest achievement.
He recently remarried and I hope he finds happier times as I will always miss his smile lighting up the stadium.
Dan Smith